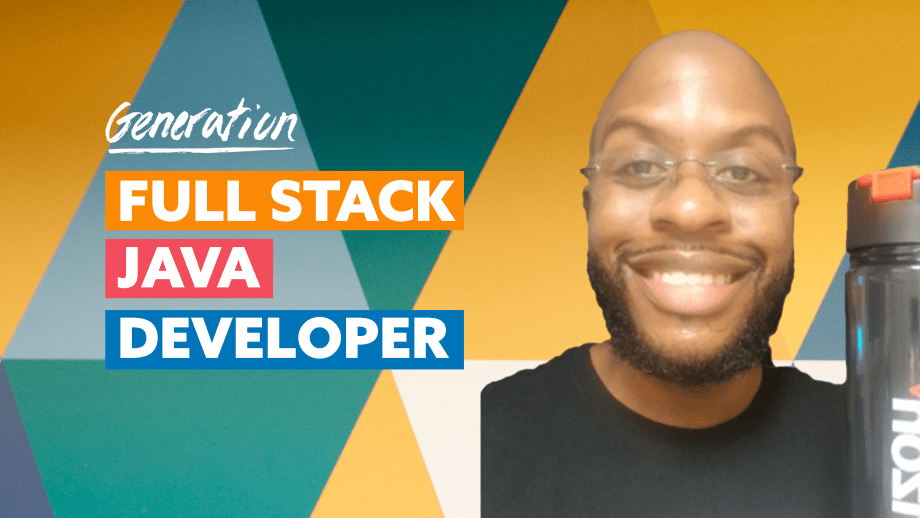 James' Technology Career Journey
Like many other Americans, James Gordon lost his job as a result of the COVID-19 pandemic. After getting laid off from his marketing position at American Airlines, he needed to find a new source of employment. And he decided to use this time to explore a new endeavor.
"I have always had a fixation with technology," he says. "It was something I always wanted to pursue."
But bills and other responsibilities just got in the way. "Anytime you want to pivot like that, life often doesn't allow you to do so," says Gordon, 32.
Yet the Dallas resident had now been forced to pivot and had plenty of compelling reasons to follow his interest in technology. When a friend told him about Generation's Junior Web Developer program, it captured his interest.
"At first I didn't know if I should do it, but then I figured I had nothing to lose," he says. "So I filled out the application and did the interviews, and they reached out to me and I was accepted into the program. I was ecstatic; it was such a blessing."
Gordon learned web development fundamentals that included programming and Java Script from instructors like Phillip Kinney. "He was so good as far as doing lots of hands-on teaching and simplifying and explaining things," says Gordon. 
After completing that course, he enrolled in Generation's Junior Full Stack Java Developer program. "I saw that program and I jumped on it," he says. A big reason why? In addition to increasing his skill set, that program also had the potential to lead to an apprenticeship with Verizon's software development team.
Throughout the two programs, Generation didn't just help Gordon gain valuable technical knowledge and experience. It also provided the chance for him to brush up on career skills he might have already had experience with, like resume writing and proper office etiquette, as well as gain insight on behaviors and mindsets particular to the new field he wanted to enter.
"It taught me so many things that I had never thought about," he says. "For instance, we had to role play where there was a server that crashed, and we needed to explain to the client how we were going to remedy the situation. And that is an actual, practical example of something we may encounter in the workplace."
As the interview for the apprenticeship approached, Generation staff helped Gordon practice and prepare. And all that hard work paid off, as he was selected for a year-long apprenticeship with Verizon that begins in June 2021 and has the potential to turn into full-time employment.
He's excited about what the future may bring and appreciates how Generation has helped him begin this transition into a new career. "From a technical perspective, the skills they assisted me with were major," he says. "It's up to you to put in the work; it's up to you to be an active participant in what you're absorbing. But I definitely increased my skill set and learned things that may have taken me a lot longer to grasp or even pursue on my own."
Equally important was the guidance he received about navigating the information technology industry. "They always talked about networking connections, which was something I was aware of," he says. "But I didn't know how even more important it was within the IT arena."
Gordon wasn't afraid to follow up with his instructors or the speakers they brought in to talk with students if he had questions. "They all helped point me in the right direction," he says. "They did a great job as far as helping me pivot, and without some of that direction, there's so much information out there that you can get lost in it." 
He hadn't heard of Generation before he enrolled in the Junior Web Developer program, but he's sure glad his friend told him about it. "If you're looking to expand your skills or if you're in a situation like me where you had a layoff, you should definitely check out Generation," says Gordon. "I feel like they go deeper than the average boot camp or something like that where people pay thousands of dollars and you don't have too much to show for it. 
"This program didn't cost us a penny, and there are skills you can take away from it and opportunities like my Verizon opportunity that I was blessed with," he continues. "There are so many positive reasons to join Generation's programs. If you're serious about developing your skills or making a career change, it makes sense to go in the direction of Generation."
—
About Citizen Verizon
Citizen Verizon is the company's responsible business plan for economic, environmental and social advancement. Citizen Verizon empowers Verizon to deliver on its mission to move the world forward through action by expanding digital access and resources, protecting the climate, and ensuring people have the skills needed for jobs of the future. Through Citizen Verizon, and the key pillars of Digital Inclusion, Climate Protection and Human Prosperity, the company is committed to providing 10 million youths with digital skills training by 2030, supporting 1 million small businesses with resources to help them thrive in the digital economy by 2030, achieving net zero emissions in its operations by 2035, and preparing 500,000 individuals for jobs of the future by 2030. Learn more at CitizenVerizon.com.
Verizon and nonprofit organization Generation announced a new multi-year strategic partnership aimed at closing the opportunity gap for American workers and expanding access to digital skills. A commitment of over $44 million from Verizon will significantly increase access to a free, technology-focused career training program to help reskill workers.