Creating Pathways for Career Success
Generation USA prepares, guides, and supports people for life-changing careers.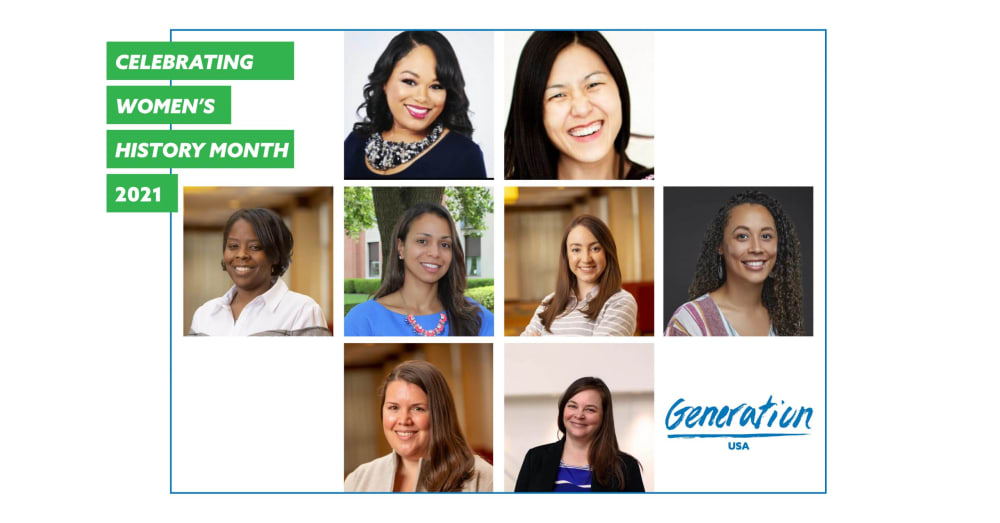 Celebrating Women's History
In the spirit of celebrating women leaders throughout history, we spotlight Generation USA's eight female C-suite leaders, asking them the following question:
What's the light on the other side of leadership?
NOW ACCEPTING APPLICANTS NATIONWIDE
Some of our programs are now accepting applicants nationwide. The Digital Marketing Analyst, IT Support Specialist, Jr. Cloud Practitioner, and Jr. Web Developer programs are open to individuals around the country.
To learn more about our programs, click here to see when our next Virtual Information Session is happening.
FEATURED: Generation Awarded Grant in MIT Reimagining Pathways to Employment in US Challenge
"Generation is only about six years old. Globally, our organization has trained more than 40,000 people and by 2030 in the U.S., we're working to train and place 500,000," said Sean Segal, CEO of Generation USA. "Work is at the heart of all we are in America. It's where we spend the majority of our time. It affects our health, our sense of self, our families, our way of life, and the generational impact we'll have. So for us, getting connected to organizations like MIT Solve, workforce boards, and IBM is an incredible honor and opportunity for us to expand our footprint to make a dent in the unemployment problem plaguing so many communities in our country."
Generation Delivers
Graduation Rate
80%
At each United States program, dedicated staff members work with students to ensure they reach graduation.
High Retention
77%
of Generation USA graduates remain in the same job one year after placement.
Job Placement
75%
of graduates are employed within 90 days of graduation.
Generation: Exactly What Employers Need
We focus on tracking and raising the return on investment (ROI) that employers get from recruiting and training. As a result, your new hires operate at higher productivity, with longer retention, and faster speed to promotion.
A gift to Generation provides people across the country with the support and training they need to begin a successful, sustainable career.
---