Training Accelerator Programs
Free online job training
Our mission is clear, to provide a meaningful career and sustained well-being for every person. How do we do that?
We prepare, place, and support individuals into life-changing careers that would otherwise be inaccessible. Our 100% free, online programs provide the technical and soft skills necessary to succeed in a variety of roles. Then, we partner with educational institutions to help students find apprenticeships, internships, continuing education, or full-time employment in the location they are enrolled in.
NOW ACCEPTING APPLICANTS NATIONWIDE
Some of our programs are now accepting applicants nationwide. The Digital Marketing Analyst, IT Support Specialist, Jr. Cloud Practitioner, and Jr. Web Developer programs are open to individuals around the country.
Which program is right for you?
Current Program Offerings
ADMISSIONS PROCESS
1. YOUR PROGRAM ELIGIBILITY
This step helps us determine your eligibility to participate in a program and assign you a dedicated Enrollment Coach.
2. TELL US ABOUT YOURSELF
We will ask questions to better understand you, your interests and how we can support you.
3. ASSESSMENTS
This step is only applicable for certain programs. Our assessments gauge the skills and logic required by some of our programs to ensure you are prepared and positioned to succeed from Day 1 of the bootcamp.
4. GETTING TO KNOW YOU
You'll be redirected to a third-party platform, HireVue, to complete a video interview. This stage helps us get a better sense of who you are, why you are interested in Generation and what you think it will take to be successful.
5. ADMISSIONS REVIEW
Your dedicated Enrollment Coach will review your application materials within 3 business days to help make an admissions decision and set up additional time to dig deeper, if necessary.
6. COHORT SELECTION
Once admitted to Generation USA, you will be able to save your seat in one of our upcoming programs.
7. LEARNER DATA FORM
To keep your spot within your chosen cohort, you must complete this final step to be enrolled. This helps us direct you toward the support you'll need most to be successful and does NOT affect your ability to join a program.
READY TO APPLY?
NEED MORE INFORMATION?
LEARNER EXPERIENCE
Learn more about the typical journey a Generation student takes in our Training Accelerator programs.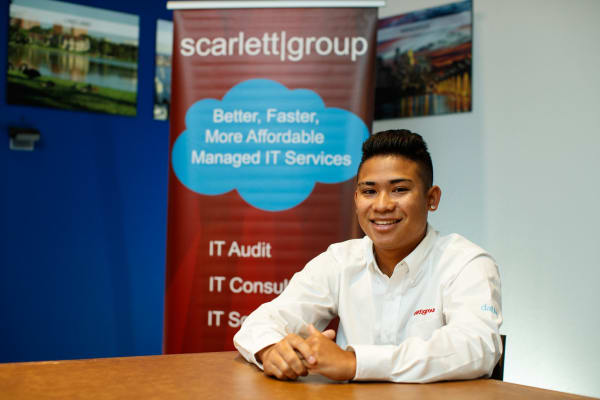 LEARNING OUTCOMES
After program completion, there are four potential outcomes for which a student may choose as part of our Training Accelerator Programs.
Learner Support
Students enrolled in Generation Training Accelerator programs have access to various resources and support from our support team. These include:
Learner Orientation
Coaching and Mentoring
Support & Resources
Instructional Support
Transition to Alumnihood
Featured Video
USA Technology Program
In the technology sector, Generation trains you for computer-user support and network support roles—well-paid, middle-skills jobs with strong career pathways. After completing the program and taking the exam, you will have your CompTIA A+ certification. These industry-recognized credentials provide you with the skills to quickly progress in a technology career in one of multiple sectors.