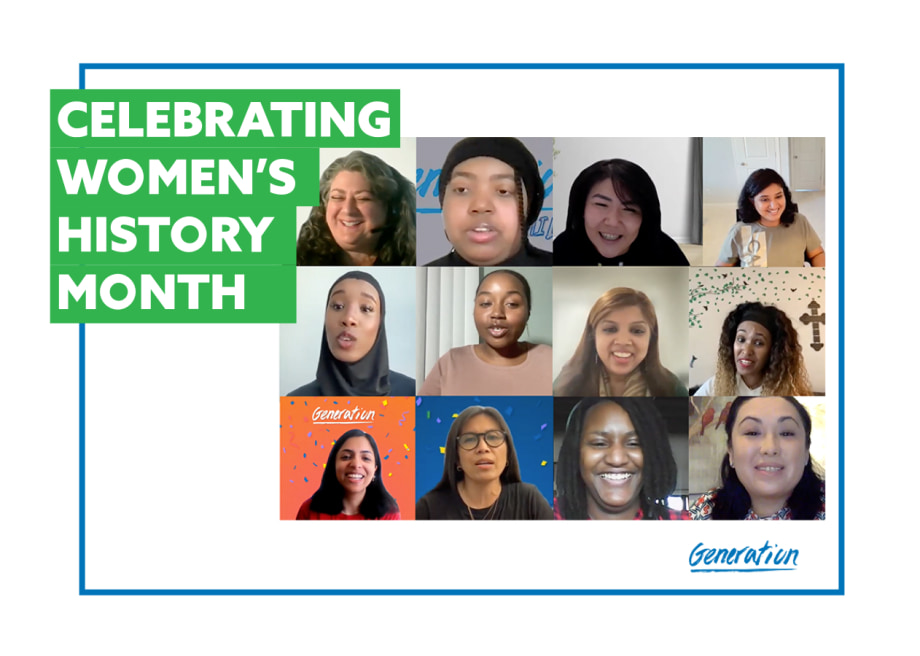 Honoring Women's History Month 2022
This month – and every month – Generation USA is proud to support diverse communities of women across the United States looking to jumpstart and launch their careers. To honor Women's History Month, we'll be highlighting their stories and accomplishments both at Generation and beyond.
We're kicking off March by spotlighting Generation learners and alumni in tech. Check out their stories below and learn more about Generation Training Accelerator Programs to jumpstart your career today!
–––
Muneerah Livingtson
Digital Marketing Analyst, NYC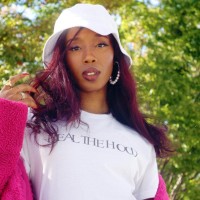 Prior to Generation, Muneerah Livingston was working at Wawa to support herself and save up for her degree, but she was having a hard time making ends meet. When she found the Digital Marketing Analyst (DMA) training accelerator program at Generation – offered at no cost to learners across the U.S. – she decided to take the leap. 
"I was working at Wawa making $14.50 an hour," she says. "Once I found Generation, things started to come together. The return on my investment in this program was crazy. They offer soft skills, mindset skills, career coaching, plus, you get all the technical skills you need to enter the workforce. Plus, you get to join a community."
Livingston was fully immersed in the field of digital marketing, from brand strategy to corporate strategy, social media and SEO (Search Engine Optimization). She was equipped with technical skills across the field and felt supported on the personal level to gain confidence in herself and her ability to apply her skills. 
"The tools that you use to make all these strategies work have helped me gain confidence in myself and my own abilities, and now outside of my full-time position with MATTE, I have launched a digital consultancy agency as well," Livingston says. "I have a new apartment in Bushwick, and my experience with Generation definitely helped me zero in on the areas of digital marketing I'm passionate about and can succeed in."
–––
Dasha Praylor
Digital Marketing Analyst, New Orleans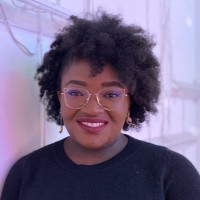 Dasha Praylor was a curbside shopper at a grocery store when she decided to enroll with Generation USA. 
"I felt like I was one of those people who wanted a career, but didn't have a degree," she says. "I did my research and what really stood out was Generation." 
Praylor was drawn to marketing for its flexibility and the variety of focus areas. She felt that she could find something in the field that worked for her and that she could succeed in. So, she joining the DMA bootcamp to start building technical skills and explore the wide range of professional opportunities. 
"The best thing about the bootcamp to me was being able to do work that was similar to real life. I found that to be really helpful. All of our work was very similar to the work we would be doing in real life, in our careers," she says. "After graduating, I took everything I learned from resume skills and interviewing skills, and I got an internship right after." 
Praylor says she saved all of her work from the bootcamp and was able to make a portfolio of her applied skills and experience to show future employers. She also left the bootcamp with a revamped resume, career coaching and guidance on cover letters and interview strategies. After her internship, she is even more excited for the employment process and to continue to grow her career.
–––
Elizabeth Abraham
Java Full Stack (JFS) Developer, National Cohort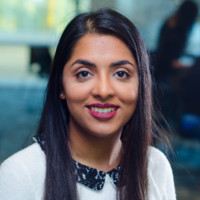 Elizabeth Abraham was serving as a substitute teacher in her local school district. While she enjoyed teaching, she was looking for a long-term career she could invest in. 
"I was looking for a career that would invest in me, and one that I could invest in also," she says. "I found this opportunity through Generation where I could be a lifelong learner in an industry that was constantly growing and changing."
As soon as Abraham found the Junior Full Stack (JFS) Developer program, she jumped at the opportunity to start her next venture. She saw that Generation was well connected in the tech industry, had connections with community partners and employers, and worked with learners to support them not only throughout the bootcamp but in their lives beyond the classroom. 
"There were a lot of different opportunities for internships and apprenticeships. It's actually through Generation that I'm in an apprenticeship with Verizon right now," she says. "I was so thankful that Generation had that support for their learners – during the program and following. I connected with Verizon while I was still in the bootcamp, and so I was able to start working full-time through their apprenticeship right after I graduated."
Abraham is looking forward to growing her skills and experience with Verizon and looks forward to launching her career as her apprenticeship wraps up. She feels primed to grow and adapt within the tech industry. 
"So many people in this field start off with different backgrounds and experiences. All you really need to succeed is an openness and a willingness to learn," she says.