Training Accelerator Programs
Free Online Job Training
In partnership with
As part of the Verizon Skill Forward initiative, Generation USA's free, fully online programs teach you technical skills, soft skills, and give you the support you need to succeed. We talk to employers in your area to find out what roles are open. Then, we create a learning experience that uses practical, hands-on learning in an accelerated, online-first format. Our staff provides instructional support and career and life coaching during your program, based on your needs.
After you've successfully completed the program, we'll assist you with the next phase of your career journey by helping you to find full-time employment, internships, apprenticeships, or continuing your education. You'll also be part of a growing alumni network of graduates.
Check out our program offerings below or take the quiz to see which program is right for you.
Current Program Offerings
Connect with us
Sign up or talk with one of our admissions counselors about joining Generation and starting your career.
ADMISSIONS PROCESS
1. ELIGIBILITY QUESTIONNAIRE
Begin by completing a questionnaire that will determine if you are eligible.
2. APPLY
Apply for the program you are eligible for and complete all steps.
3. ASSESSMENTS
Complete applicable assessments.
4. INTERVIEW
You'll be redirected to a 3rd party platform, HireVue, to complete a video interview. The interview helps us get to know you a bit more and allows you to tell us the things your application doesn't say.
5. ADMISSIONS REVIEW
Your complete application, assessments, and interview will be reviewed by an admissions counselor who will determine your eligibility. Next, complete the support questionnaire. This helps us better understand specific needs.
6. ADMISSIONS DECISION
You will be notified via email once a decision has been made regarding your admission and next steps.
Which Generation program is right for you?
LEARNER EXPERIENCE
Learn more about the typical journey a Generation student takes in our Training Accelerator programs.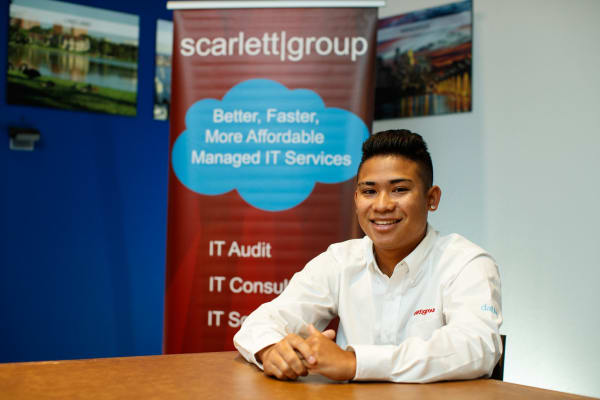 LEARNING OUTCOMES
After program completion, there are four potential outcomes for which a student may choose as part of our Training Accelerator Programs.
Learner Support
Students enrolled in Generation Training Accelerator programs have access to various resources and support from our support team. These include:
Learner Orientation
Coaching and Mentoring
Support & Resources
Instructional Support
Transition to Alumnihood
Featured Video
USA Technology Program
In the technology sector, Generation trains you for computer-user support and network support roles—well-paid, middle-skills jobs with strong career pathways. After completing the program and taking the exam, you will have your CompTIA A+ certification. These industry-recognized credentials provide you with the skills to quickly progress in a technology career in one of multiple sectors.