Jacksonville Team Reaches Major Milestone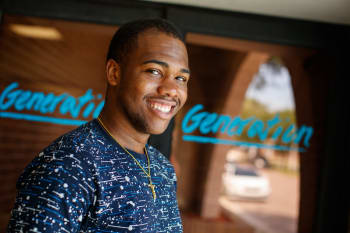 Generation programs have served 1,000 learners since 2016 inception.
Generation in Jacksonville recently hit the 1,000-student mark, an important milestone for the program that began in 2016.
"It's the most students we've served in any one area across the United States, so we're really proud of that," says Alexandra Rudnick, a program lead for Generation USA, a workforce development nonprofit. "We feel established in this city in a new way. It feels like a meaningful accomplishment and the start of the next chapter."
And that's not the only impressive number for the program. Generation in Jacksonville also boasts an 82% graduation rate and has forged connections with more than 260 local employers, including Mayo Clinic Jacksonville, Concentrix, Scarlett Group, and Early Upgrade. 
Generation offers three free job training programs in the region: Customer Service Supervisor, Administrative Medical Assistant, and IT Help Desk Technician for both its typical younger (18-29) student population and its ReGeneration students ages 40 and older.
Generation assessed the industry sectors prioritized by the city when choosing the programs to offer. It began with the IT program, which has grown from 75 students a year to around 200. Students who complete that program earn the industry-recognized CompTIA Fundamentals and A+ certifications.
"There are a number of small and large tech companies in Jacksonville, and it's a sector that has high-growth potential for our students," says Rudnick. "There are a lot of stackable credentials you can achieve that don't require a bachelor's degree, which really allows people to move up in their career in a way that allows them to make more money over time."
Kenyetta Siplin graduated from the IT Help Desk Technician program in July 2020 and is now doing an internship at Early Upgrade, which refurbishes mobile devices, components, and consumer electronics for resale. She was laid off from her job in the spring due to the COVID-19 pandemic and found out about Generation on Facebook.
"I had nothing but time, so I said why not go for it," she says. "And it was so worth it."
Siplin has been interested in computers since she was eight years old and taught herself as she went along. "I became so good at it my family started asking me to help fix certain issues they didn't understand," she says. "Even in high school, I was really good with it, to the point where if something happened to the networks in the library, the principal would call me out of class to come and fix it."
The 28-year-old single mother had completed one year of college before dropping out. Her decision to enroll in Generation after being out of school for about a decade has had a big impact on her.
"Generation helped me a lot with the anxiety of feeling like I'm not good enough," she says. "It's never too late, and I highly recommend it for anyone else seeking a start or seeking an entry-level job in IT. I came out of the program with so much, and it definitely helped."
Generation Jacksonville's other programs were launched more recently. "The Administrative Medical Assistant was in response to demand from students," says Rudnick. "We found that a lot of students like IT, but that it's not for everybody."
That program serves as a quicker alternative to a clinical program. "Administrative medical assisting gets your foot in the door and still offers comparable wages to an entry-level clinical role and the ability to move up," says Rudnick. "There is a lot of administrative work in hospitals and clinics, and medical is a major industry of the Jacksonville economy."
The Customer Service Supervisor program helps students already working in that field gain skills needed to advance. "There's such high turnover in the field, and growth potential can be a bit limited," says Rudnick. "So we shifted away from a broader, entry-level customer service program to this supervisor program, which helps students advance past that entry-level and really learn how to manage people and teams."
All of these programs are currently being offered online because of the COVID-19 pandemic. That shift required both ensuring that all the curriculum worked in an online format and that students had the technology and internet access needed to do the programs from home.
The pandemic has led to an increase in program applicants. But some employer partners have issued hiring freezes and unemployment has risen in the area, making job placement more challenging for graduates. "It's just a whole different employment environment and a whole different set of people our students are competing against when they apply for a job," says Rudnick.
A major goal for the program is strengthening existing employer relationships and forging new employer partnerships in the region, a key component to placing students in jobs after graduation. Despite the challenges of COVID-19, the team aims to increase its number of employer partners by 100% for its 2020-2021 program year.
"At the end of the day, all of our goals are built around students getting jobs—and meaningful jobs they stay in," says Rudnick. "If we don't have good relationships with our employer partners, that is extremely challenging for us to achieve. When partners are engaged and offering internships to students and interviewing them during the programs, students are much more likely to gain employment than if we don't have partners involved."
When employers get to know students in the programs, they're more likely to give them a chance. "A lot of students need that first employer or internship experience to get their foot in the door and build a resume," says Rudnick. "Without that, a hiring manager might look at their resume and say, 'I'm not sure.' Having people who believe in this work on the employer end of things is transformative for our graduates."