Generation USA Awarded $1.5 Million Catalytic Grant for Workforce Development Innovation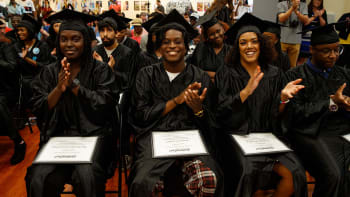 New funding to expand program delivery partnerships comes from
Bill & Melinda Gates Foundation
WASHINGTON — Generation USA, a nonprofit organization focused on workforce development, received $1.5 million in funding to implement innovative practices. The grant will enable Generation to serve more than 2,000 students nationwide in 2019 and collaborate with local community colleges and nonprofits. The grant was awarded by the Bill & Melinda Gates Foundation.
"We are thrilled and humbled by this award from our partners at the Bill & Melinda Gates Foundation," said Generation USA COO Sean Segal. "Their investment in our programs will open the door to career-launching jobs for thousands of participants across the country."
Founded in 2014 by consulting firm McKinsey & Company, Generation is an independent nonprofit that operates employment programs in eleven countries worldwide. It has grown to become the largest global, demand-driven youth employment program, with more than 27,000 graduates, globally. In the U.S., Generation offers programs in 11 regions including greater Washington, D.C. Each region's program offerings are based on local employer needs, including the customer service, advanced manufacturing, technology, and healthcare sectors.
Growing with Speed and Scale
The $1.5 million grant from the Bill & Melinda Gates Foundation will propel the growth of Generation USA in four cities, expanding programmatic offerings through a unique program delivery partnership model. In Atlanta, Ga. Charlotte, N.C., Dallas, Texas, and Miami, Fla., Generation USA will partner with local community colleges and nonprofit organizations to launch programs in technology and healthcare. Generation USA refers to this implementation model as program delivery partnerships, where a local organization uses existing resources, including classroom space and instructors, and relationships, to quickly implement the Generation USA curriculum.
"Our program delivery partnerships model is founded on the premise of improving workforce development outcomes for employers and students, while simultaneously reducing the cost of program delivery," said Segal. "These partnerships are a key lever to increase the number of students we can impact while keeping program delivery costs low."
Generation USA has already utilized program delivery partnerships in several communities including Birmingham, Ala., Cleveland, Ohio, Las Vegas, Nev., and San Juan, Puerto Rico. This model is low-cost and yields strong outcomes. The average cost per student served, from enrollment to placement, is 10-20% of the cost of similar workforce development programs in the U.S.
Graduates go on to new career paths that often include higher wages than their pre-Generation jobs, with room for growth and promotion. Within six months of graduation, 80 percent of U.S. graduates were placed in a job, all at a fraction of the cost of other programs.
In Atlanta, Ga., Dallas, Texas, and Miami, Fla. the new funding will launch programs in the growing cloud computing field. The Cloud Support Engineer program will teach participants the fundamentals of cloud storage and database support. Charlotte, N.C. is developing a healthcare program with local employers.
Explore the stories of Generation USA students and the wide variety of programs offered when you visit usa.generation.org.
###
About Generation USA:
Today, more than 75 million young adults are out of work globally, and three times as many are underemployed. At the same time, 40 percent of employers say a skills shortage is leaving them with entry-level vacancies. Generation is a youth employment nonprofit with a dual mission to empower young people to build thriving, sustainable careers and to provide employers the highly skilled, motivated talent they need. Today, more than 27,000 young adults have graduated from the Generation program, which prepares young adults for careers in nearly 100 cities and 250 locations across eleven countries. Generation works with 2,800+ employer partners and a wide range of implementation partners and funders. The organization was founded as an independent nonprofit by McKinsey & Company in 2014. See usa.generation.org for more information.