Generation USA Awarded New Grant For Program Expansion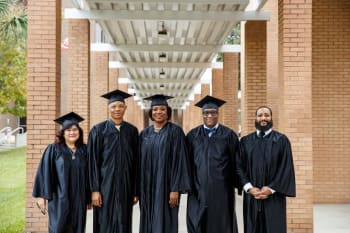 Funding from the Citi Foundation will provide funding for IT, Customer Service, and Administrative Medical Assistant programs in Jacksonville
Generation USA received a $150,000 grant from the Citi Foundation as part of its Pathways to Progress initiative to support the organization's continued program expansion in Jacksonville. Support from the Citi Foundation will allow Generation USA to offer more options for disconnected youth in Jacksonville, FL to be placed in high demand and high-growth roles: IT help desk technicians, entry-level customer service representatives, and certified administrative medical assistants.
"The Citi Foundation's investment in Jacksonville programs will help us reach up to 300 students in the community in the coming year," said Generation USA Programs Lead Alex Rudnick. "This funding helps us with a variety of needs including mentor support, a key element of our programming."
Generation began its first Jacksonville program in 2016 and currently offers three unique employment training programs, also supported by Walmart and CareerSource of Northeast Florida. More recently, the team celebrated a milestone — serving 500 graduates in the region.
 "Part of what makes Jacksonville so special is the immense amount of community support and energy around workforce development," said Rudnick. "As the city continues to grow and thrive, we are excited to expand our options to serve more youth in the region."
Generation USA is a workforce development nonprofit founded in 2014 by consulting management firm McKinsey & Company. The organization offers bootcamp-style employment training programs for young adults and mid-career workers, preparing them to enter sectors such as customer service, hospitality, and technology. After completing a Generation USA program, the organization connects graduates with local employers who are hiring for entry-level roles. More than 2,500 students have graduated from Generation USA programs and 76 percent of graduates remain employed in a new career one year after graduation.