Generation Jacksonville Awarded Funding for New Healthcare Program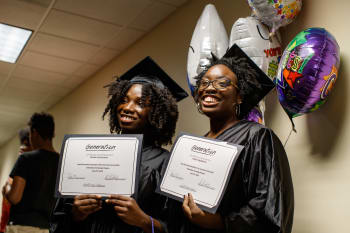 Administrative Medical Assistant classes federally funded in partnership with CareerSource Northeast Florida will begin this summer
Generation Jacksonville received a $600,000 grant award from CareerSource Northeast Florida to begin an Administrative Medical Assistant (AMA) employment program for young adults interested in administrative healthcare careers and to continue providing IT training. The 5-week AMA employment and mentoring program will host its first cohort later this summer and graduates will have the opportunity to earn their Certified Medical Administrative Assistant credential. CareerSource Northeast Florida has been a vital partner for Generation in Jacksonville and has supported the IT Help Desk Technician program since its launch in 2016.
"More than 200 students have graduated from our IT Help Desk Technician program thanks to the continued support from CareerSource Northeast Florida," said Generation USA COO Sean Segal. "This new grant will enable hundreds of community members to get well-paid, full-time work in Jacksonville's growing healthcare sector."
CareerSource Northeast Florida is part of the CareerSource Florida network, a nonprofit serving six counties in Northeast Florida with employment and training resources. In 2018, CareerSource Northeast Florida served more than 33,000 job seekers in the region.
"We're committed to building a world-class talent pipeline in the region," said Bruce Ferguson, CEO of CareerSource Northeast Florida. "Healthcare is one of our most important and fastest-growing industries. It provides a variety of career pathways that pay well and provide opportunities for lifelong employability."
The new Administrative Medical Assistant program uses Generation's unique seven-step methodology of employment training, combining job-specific technical skills development with sessions focused on soft skills. Over the course of 5 weeks, participants will engage in hands-on coursework to learn the fundamentals of healthcare administration, including insurance verification, patient scheduling, and privacy regulations.
Each day, these technical sessions will include time for students to build their soft skills and prepare for interviews. Role-play scenarios, facilitated by instructors, will allow students to practice their communication and teamwork skills. Additional sessions focused on developing strong cover letters and resumes will prepare students to apply and interview for new roles.
Before graduation, students will take the Certified Medical Administrative Assistant exam and participate in job fairs and interviews with local employers. Program graduates will join the thriving Generation Jacksonville alumni community, a group of more than 500 Generation graduates who host regular networking events.
"We are so excited to bring this new program to Jacksonville and are grateful to our partners at CareerSource Northeast Florida, whose vision and investment in employment programs make our work possible," said Alex Rudnick, who leads place-based programs for Generation USA. "We look forward to creating strong pathways to sustainable careers in healthcare for young adults in Jacksonville."