Generation Cleveland Welcomes Employer Partner Huntington National Bank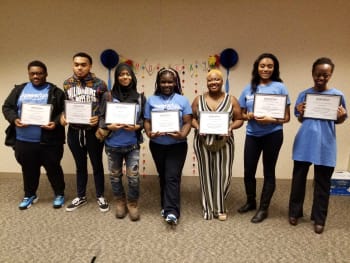 The Generation Customer Care Agent program in Cleveland, Ohio is excited to welcome Huntington National Bank as a new employer partner. Founded in 1866, Huntington National Bank still operates its founding Columbus, Ohio location and now serves 8 Midwestern states with more than 900 branches.
"Huntington is committed to strengthening the communities we serve through partnerships that create economic impact through workforce development," said Huntington Regional President-Cleveland Sean Richardson. "We are proud to be a Generation and Youth Opportunities Unlimited (Y.O.U.) employer partner to empower young people in Cuyahoga County to build sustainable careers."
Generation has operated the Customer Care Agent program with Y.O.U. since 2018 and has more than 25 graduates living and working in Cleveland. The program follows the Generation methodology of a bootcamp-style curriculum that combines technical, job specific skills training with soft skills development and social support. Over the course of 6 weeks, Customer Care Agent participants also receive individual resume and cover letter coaching as they prepare to interview for new roles with employer partners.
As an employer partner, Huntington National Bank will play a key role in ensuring that young adults in Cleveland have the opportunity to access new career paths. Graduates of the Cleveland Customer Care Agent program will be able to interview for customer service representative positions at Huntington National Bank.
"Employer partners are critical to the continued success of Generation graduates," said Sienna Daniel, partnerships lead at Generation USA. "We look forward to working with the Huntington National Bank team to match our skilled graduates with open roles in Cleveland."
To learn more about Generation's work in Cleveland, visit usa.generation.org/cleveland. Employers who are interested in partnering with Generation are invited to visit usa.generation.org and complete a partnership inquiry form.