Stop

job searching.
Start
your career.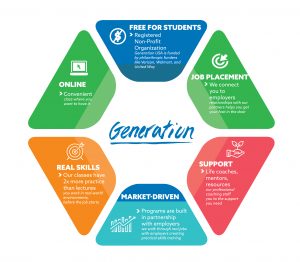 There are 1000 reasons not to invest in yourself…
but only one to ignore them all.
You're worth it.
Generation gives students free, online training and connects them to a meaningful career. We provide technical skills training, support and coaching, mentoring, and a lifelong network of peers.
Invest in yourself and find a
long-term career

that you love.

Join our email list and learn more about Generation's free job training programs in your area.
Generation is made possible by Skill Forward.
Get
Trained
Free, online training in web development, digital marketing, IT support, & cloud.
Get
Coached
Learn from our coaches about job prep, life, or family issues during & after the program.
Get
Connected
Find experts & mentors through seminars and 1:1 online conversations.
Get
Hired
We'll give you the tools, you make it happen!
Still have questions?
Sign up or talk with one of our admissions counselors about joining Generation and starting your career. Generation USA is a 501c3 non-profit organization.
Featured Video
Sneak Peek Into The Generation USA Classroom
Checkout a sample Generation USA Behavior Skills & Mindset lesson to get a feel for how the virtual classroom is run and why these skills are equally as important as the technical skills we teach.
Watch Video