Your
donation

helps us
get people
back to
Work
Our programming isn't free, but it is free for our students.
Every donation helps pay our expert instructors, supports a student's stipend, paid internship, purchases a student's laptop, or pays for industry-recognized credentials.
What's
Generation?
Generation's mission is to give free access to career training and jobs with a future. Our students may face a myriad of life challenges, including transportation, parenting and family challenges, food, and housing insecurity.
To allow Generation students to manage their lives during training and focus on learning, we provide a variety of resources and technical skills training, support and coaching, mentoring, and a lifelong network for our graduates.
Learn more about:
Help us keep our programs
free

for learners by donating today or sharing our message!
AMPLIFY OUR MESSAGE
Follow us on Facebook, Instagram, LinkedIn, and Twitter and repost our messages to your channels! This will help our communities learn more about our partnership and engage potential partners and donors.
You can also use the below sample images and sample posts to post directly on your social channels.
Sample Images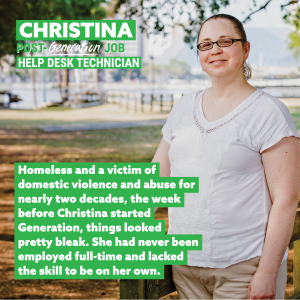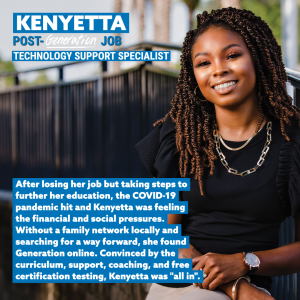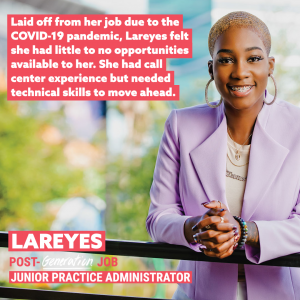 Sample Posts
It's #GivingTuesday, and I'm celebrating by supporting @GenerationUSA/@GenerationUSA_ and its leaners. Help spread generosity this giving season. https://usa.generation.org/generationgivingtuesday/
Generosity is contagious. When you participate in #GivingTuesday you're participating in a global movement for generosity and can inspire others to join in. Learn more about an organization I support: https://usa.generation.org/generationgivingtuesday/
@GenerationUSA/@GenerationUSA_ is leveling the playing field for learners by offering alternative pathways to sustainable careers, which is why I'm supporting them this giving season. Learn more: https://usa.generation.org/generationgivingtuesday/
The unemployment rate in America has always reflected fundamental inequalities to educational access and career opportunities. Right now, it's almost 3% higher for Black Americans than the general population. @GenerationUSA/@GenerationUSA_ is providing that access and support -- at no cost to participants. Support Generation this giving season: https://usa.generation.org/generationgivingtuesday/

Talent is universal, but opportunity is not.
With your
help

on Giving Tuesday we're closing the gap, for generations.
Give on AmazonSmile
When you shop with AmazonSmile and select Generation USA as your choice of charity, Amazon donates 0.5% of eligible purchases to us. Simply go to smile.amazon.com, search and select Generation USA, and bookmark smile.amazon.com to do your shopping!
Set up a monthly donation
By donating monthly, you'll help sustain our efforts to level the playing field for our learners. Set up your recurring donation here.
Lareyes
Post-Job
Junior Practice Administrator
Total Foot Care and Wellness Clinic
Laid off from her job due to the COVID-19 pandemic, Lareyes felt she had little to no opportunities available to her. She had call center experience but needed technical skills to move ahead.
"A life-changer.
This program is 100% what you make it. If you take what you've learned and apply it to your personal and work life you will do nothing but elevate.
"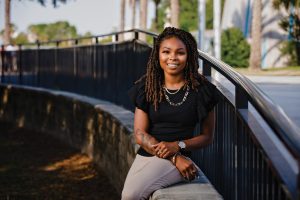 Kenyetta
Post-Job
Technology Support Specialist
Second Mile Ministries
After losing her job but taking steps to further her education, the COVID-19 pandemic hit and Kenyetta was feeling the financial and social pressures. Without a family network locally and searching for a way forward, she found Generation online. Convinced by the curriculum, support, coaching, and free certification testing, Kenyetta was "all in."
"I am a natural-born leader.
I learned resilience triumphs all things and that practicing positive behavior skills and mindsets while networking with potential employers and building relationships with mentors and partners is just as important as achieving certifications, degrees, and accolades.
"
Christina
Post-Job
Help Desk Technician
HCI Group
Homeless and a victim of domestic violence and abuse for nearly two decades, the week before Christina started Generation, things looked pretty bleak. She had never been employed full-time and lacked the skills to be on her own.
"The key to my success.
The most important thing that I gained during Generation was renewed self-confidence.
"
News
Generation in the press
---
"We've designed our new programs specifically for workers who are unemployed, underemployed, facing job displacement due to automation, or further challenged by the pandemic to be delivered at scale; and as always, providing both technical and professional 'soft skill' training and support," said Sean Segal, CEO of Generation.
Trade & Industry Development
"We think most people can do anything when they're ready," Segal said. "It's never too late to invest in yourself. And this program, while it's a big commitment, is also free, and it has the potential to change lives. So if you're thinking about it, apply tomorrow and start the journey."
BadCredit.Org
"They taught us what it means to be the kind of employee who deserves leadership positions,"
Florida Times-Union
An often-overlooked group among the job candidate base are opportunity youth, defined by the Rockefeller Foundation as young people between the ages of 16 to 24 who are neither in school, nor working. In the U.S., that's an untapped talent pool of 6.7 million individuals.
WorldatWork
See All Press