Your Support Changes Lives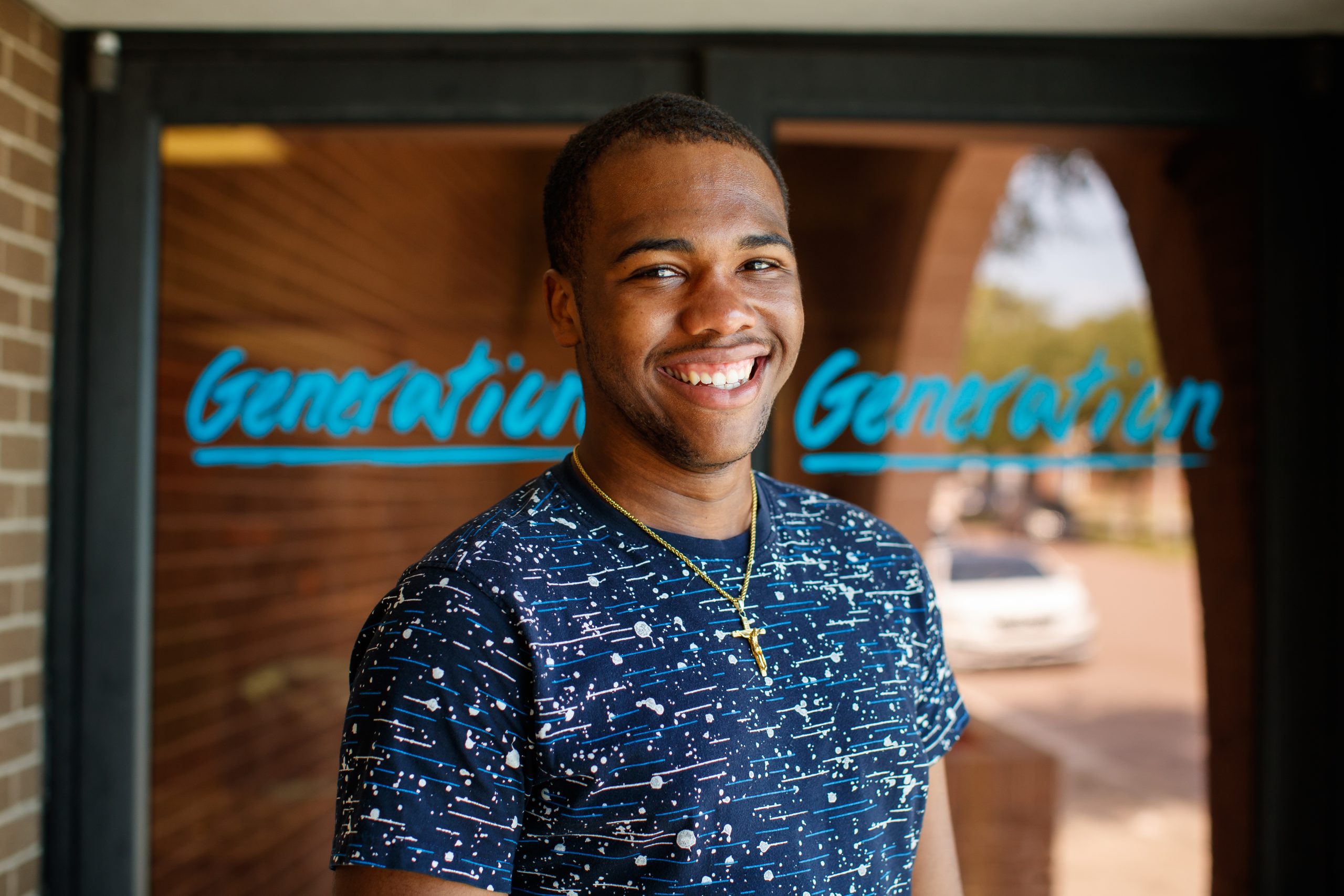 #500K by 2030
It's an ambitious goal. As an important Generation supporter in your community, you're uniquely positioned to help your community and thousands of unemployed and underemployed Americans gain access to free job training.
By 2030 Generation aims to:
Serve 500,000 People
Change 500,000 Lives
Teach 500,000 Students
Launch 500,000 Careers
A gift to Generation provides people across the country with the support and training they need to begin a successful, sustainable career.
Ways to Give
Give Offline
To give by check, please make your check out to "Generation LLC" and mail it to our office:
Generation USA
1616 H. Street NW Suite 820
Washington, DC 20006
Donate Stock
Generation USA gratefully accepts gifts in the form of stocks and appreciated securities. Please consult with your financial planner to determine the best option and contact giving@generation.org for more information.
Bequests
Leaving a legacy of opportunity through a bequest to Generation USA. Contact giving@generation.org for more information about planned giving.
SHARE YOUR SUPPORT ON SOCIAL
Facebook | Instagram | Twitter | LinkedIn | YouTube
Use the below digital assets and sample posts to ask others on social to join you in supporting Generation USA.
SAMPLE POSTS
@GenerationUSA/@GenerationUSA_ has BIG goals to change 500,000 lives by 2030 by creating pathways to career success entirely free to students. Join me in supporting this goal at usa.generation.org/donate. #500Kby2030
I'm supporting @GenerationUSA/@GenerationUSA_ because, at a time when many people are unemployed, they've committed to preparing, guiding, and supporting 500,000 individuals into life-changing careers by 2030, at no cost to them. Learn more at usa.generation.org/donate. #500Kby2030
By 2030, @GenerationUSA/@GenerationUSA_ aims to create a sustained well-being for 500,000 people by helping them launch their careers at no cost to them. Join me in support of this goal at usa.generation.org/donate. #500Kby2030
DIGITAL ASSETS
Financial Transparency
Generation USA is a U.S. 501(c)(3) public charity committed to transparency and accountability in our work. We are humbled by the support that philanthropies, corporate partners, and public sector funders provide. Generation USA strives to create effective, cost-efficient programs that serve students and communities, and provide local employers with a strong pool of candidates.
Partners Who Fuel Our Work
Founding Partner
Philanthropic Partners
Annie E. Casey Foundation
Atlanta CareerRise
Bank of American Foundation
BB&T
Bill & Melinda Gates Foundation
Boys and Girls Club of Puerto Rico
Charlotte Executive Leadership Council
Community Foundation of Northeast Florida
IHG Foundation
Jim Moran Foundation
Longwood Foundation
MetLife Foundation
New Profit Programs for Innovation Grant
Regions Bank Foundation
Schultz Family Foundation
Stand Together Foundation
Starbucks Foundation
The Ralph C. Wilson Jr. Foundation
The Rockefeller Foundation
United Way of Greater Atlanta Opportunity Youth Fund
United Way of Metropolitan Dallas
United Way of Northeast Florida
United Way of Southeastern Michigan
United Way Worldwide
Walmart National Giving
Wells Fargo Foundation
Wilmington Leaders Alliance
Corporate Partners
Atlanta Airport Marriott
Atrium Healthcare
Bank of America
Caesars Entertainment
Capital One
Cardinal Health
Coca-Cola Bottling Co. Consolidated
Discover Bank
Duke Energy
Huntington National Bank
M&T Bank
M. Davis & Sons
Nando's Peri-Peri
North Coast Domino's
Novant Health
Pat Catan's Craft Centers
PNC Bank
Sobieski Inc.
Stanley Black & Decker
TIAA Bank
Wayman Fire Protection
WSFS Bank
Public Sector Partners
CareerSource of Northeast Florida
Charlotte Works
District of Columbia Department of Employment Services
U.S. Department of Labor Employment Training Administration
WorkSource DeKalb
Sign up to receive updates from Generation USA
Enter your email address to ensure you stay up to date on the Generation's impact and how you can get involved.