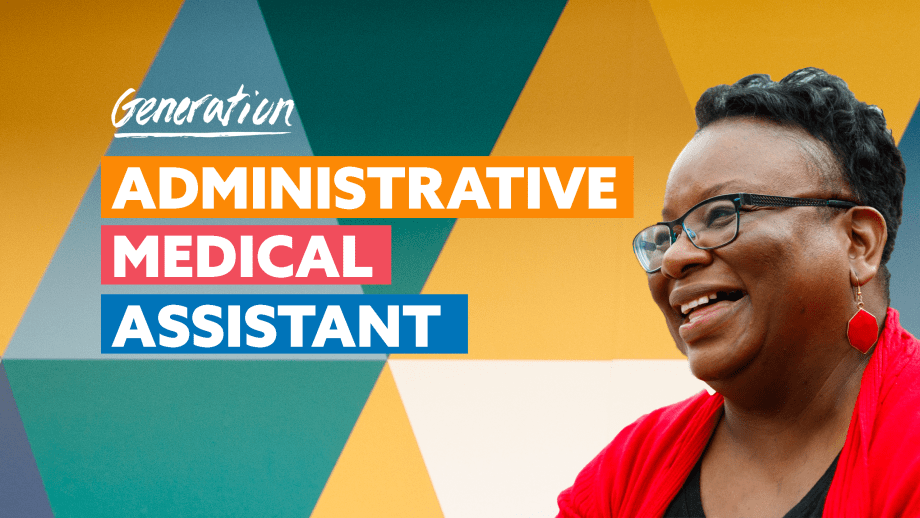 Samantha: "Generation Was an Answer to a Prayer"
Faith has always been a central tenet of Samantha's life. She believes in working hard, caring for others, and contributing to her community. But something was missing for Samantha: a career that not only paid the bills but also fulfilled her goal to serve others. 
When she talked with a friend about her frustrating job search, her friend suggested exploring local employment programs that offered training, mentoring, and support. They visited the Generation office and Samantha immediately saw that something about Generation was different. 
A Life-Changing Experience
Samantha was initially drawn to Generation for the technical skills the program offers participants. Before enrolling, Samantha had worked as a Certified Nursing Assistant and knew that she was interested in applying for customer service roles in the healthcare field. But she had some anxiety over the technology she would need to master in that kind of job, and it was holding her back.
Samantha and her fellow participants spent 5 weeks in Generation instructor Christel Peele's classroom, where each day started with motivation and reflection. This fostered a strong sense of community inside the classroom and set the tone for a supportive learning environment. 
In addition to sessions focused on technology skills, Samantha and her peers completed hands-on lessons about multitasking, effective communication techniques, and developing a growth mindset in the face of challenges. "Not only did I learn customer service skills. Not only did I learn life skills, but I learned how to motivate myself," she said. "So I've learned to push through anything, just from being with Generation."
Samantha's New Path
As graduation neared, Samantha worked with the Generation team to update her resume and cover letter and apply to jobs with Generation employer partners. In each Generation city, Generation develops partnerships with local employers who agree to interview graduates for their open roles. Samantha applied for a role on the Care Connections team at Novant Health, and when she arrived for her interview, she knew it would be a good fit.
She interviewed with her future supervisor, Deborah Muhammad. "As I talked to the many different preceptors and those two supervisors, I realized that when this company says it believes in diversity and it believes in meeting people where they are," said Samantha. "They truly meant that. So I knew I was in the right place."
Deborah interviews a lot of potential employees in her role, but Samantha and the three other Generation graduates she has hired stood out with their positive outlooks and strong technical skills. "One thing that I can say that has been resounding among every single graduate that we've had is the eagerness to do the most excellent job," said Deborah. "They're performing in a way that makes me really proud."
Samantha got the job and hasn't stopped learning or developing her skills. "Right now, I'm taking a course where I'm learning coding and billing," said Samantha. "Generation put me on that step, so I want to continue to grow and continue to be an asset."
Her team and her supervisor support her growth and inspire her to go above and beyond for those patients she serves. "You know you're in the right place when your supervisor is the type of person who is going to go out of her way, not only to help the people that work under her but she also wants to help the patients, she wants to help the community," she said. "She wants you to be the type of person who wants to help our patients [and] deliver the best service to our patients."
Samantha hopes to continue her career with Novant Health, eventually working in a medical office supporting billing and administration. But right now, she's looking forward to the impact she can make on the Care Connections team. "Generation was an answer to a prayer. I got into Generation. Then I got a job through Generation," said Samantha. "I know I'm in the right place, I get to do good and be a better person at the same time."
She blinks away tears when she recounts her journey since that first day at Generation. "I know that feeling of not wanting to get up the next day. I'm an example of that feeling. Don't give up. There's somebody out there that wants to help you. Go find them."