Meet Emily Schaffer, Generation USA's New CEO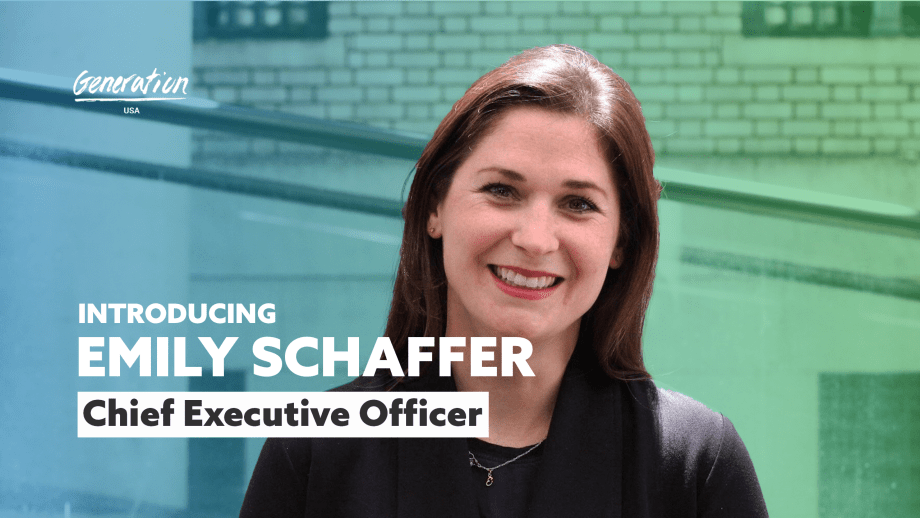 Photo Credit: So Yem Photography
The Generation USA board is excited to announce the selection of Emily Schaffer (she/her/hers) as Generation USA's next CEO, effective July 5th, 2022. Emily brings passion, experience, and an understanding of the workforce development environment to Generation USA as we embark on the next chapter and work to fulfill our mission to prepare, place, and support people into life-changing careers that would otherwise be inaccessible.
About Emily
Emily is a workforce executive with the personal mission of creating lasting economic mobility in underrepresented communities. She has spent 15 years building best-in-class programming and employer partnerships at companies defining our world.
Emily is coming to us from Year Up, where she built the Bay Area market to be the largest and highest-performing market in the United States through organizational leadership, strategic planning, college and employer partnerships, and 6- and 7-figure fundraising stewardship. Emily has presented to the Congressional Black Caucus as part of their Tech2020 tour, served as Year Up's executive sponsor for the $100m Google Career Certificates Fund, and is a founding member of LinkedIn's Network Gap Coalition.
"Emily brings energy, enthusiasm, experience, and several important networks to lead the next S-curve for Generation USA fulfilling our mission," says Thomas Seitz, Generation USA Board Chair.
About Generation USA
Generation USA is a nonprofit that transforms education to employment systems to prepare, place, and support people into life-changing careers that would otherwise be inaccessible. Since 2015, nearly 6,000 adults have graduated from Generation USA programs across 16 professions and 40 cities, with an average 66% job placement rate. Generation USA serves a population of individuals for whom the existing education-to-employment system has not worked and has extensive experience servicing opportunity youth – 72% of learners are Black or Latinx, 67% of learners have a high school diploma, GED, or some post-secondary education, 58% are female, and 39% of learners have dependents. Hallmarks of Generation's approach, including a rapid launch process, bootcamp-style training and placement, and individualized education plans with resources and support, position Generation to serve the massive newly unemployed population as a result of the global pandemic.
–––
Learn more about Generation USA and our Training Accelerator Programs! To keep up with all things Generation, follow us on on Instagram, Facebook and Twitter.