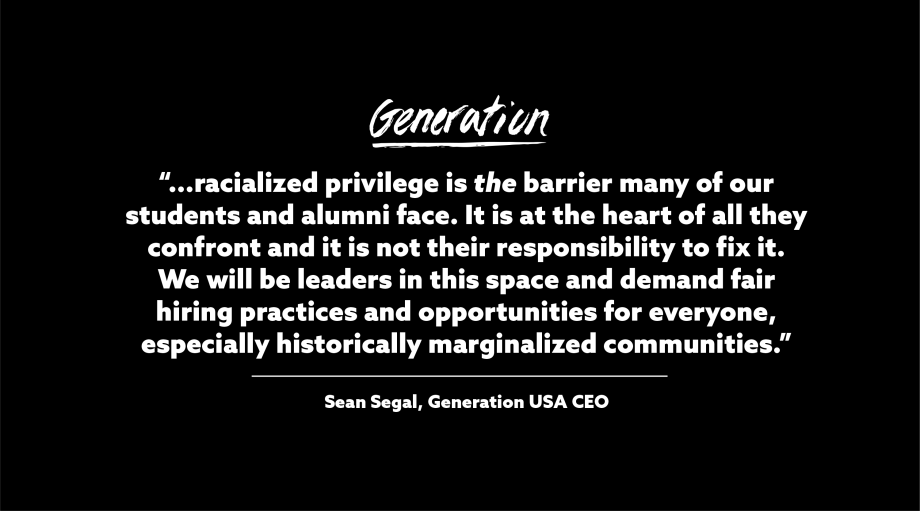 LETTER FROM CEO, SEAN SEGAL (June 3, 2020)
We live in a country that is inherently unequal. Before the pandemic, before the recent racist murders, the senseless deaths of George Floyd, Breonna Taylor, Ahmaud Arbery, and too many others, we knew this. We knew this because, as an organization focused on getting people jobs, we saw that Black individuals were more frequently unemployed. In fact, the unemployment rate among Black Americans is twice as high as the unemployment rate among white Americans in more than 20% of the country. In cities like Washington, D.C., it's as much as six times higher. 
The pandemic has only exacerbated these disparities. Given that inequity, the events of the last week are not surprising. In fact, it is only surprising that it has taken so long for many to acknowledge the systemic oppression that goes hand-in-hand with being Black in America.
It is a time to be clear on our commitments. Generation's mission is our North Star. We will continue to support people in achieving life-changing success by finding sustainable work and actively seek out partners who share in our core values. We will continue to invest in communities where Black individuals live and work and listen to the communities we serve to ensure that their voices drive our work. And, we will provide the space for our Black coworkers in the workplace to be their authentic selves and shape our work and leadership.
The Generation community promises to face these challenges head-on with a central tenet — racialized privilege is the barrier many of our students and alumni face. It is at the heart of all they confront and it is not their responsibility to fix it. We will work to dismantle systems of oppression and address racist behavior and ideologies in our communities. We will be leaders in this space and demand fair hiring practices and opportunities for everyone, especially historically marginalized communities. If we have not succeeded in the past, we are committed to doing the work to do better and challenging those who partner with us to do the same. Generation will continue to evolve and transform our approach to meet the needs of our learners. Our job is unmistakably clear: lead by example and take a stand. 
We invite you to join us, to call us out when we fall short, and to work with us to protect and amplify the voices of the unheard.
In service,
Sean Segal