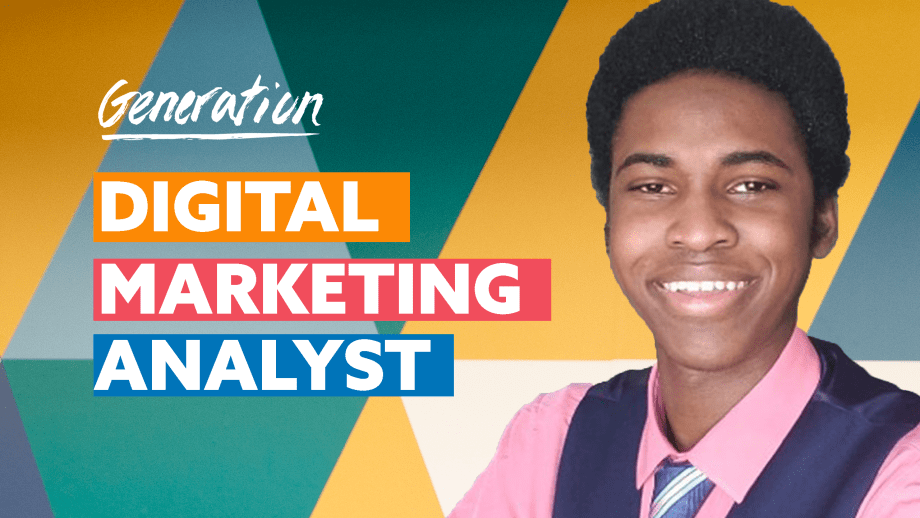 Meet Josiah, Persistence Through Circumstance
Josiah Scott graduated from college in spring 2020, and after searching for a job during the first peak of the pandemic, he started working at a warehouse that summer. A hard worker with ambitions beyond the scope of his designated role, Scott quickly excelled at work and took on more responsibilities as he moved up in the company.
"Even though I was able to move up in the warehouse – where I was training other people and taking on more of a leadership role – I realized I was training other people to essentially up and move out of the warehouse," Scott said. "That really got to me after a while. I was getting other people into office jobs that I wanted and was applying for, but employers weren't looking at me."
By spring 2021, Scott was ready to move on and take a chance on finding a career he could invest in long term. As a former communications major, he wanted to use his skills differently and apply them in real-world settings. That April, he put in his two weeks at the warehouse and left to look elsewhere.  
Taking a Leap with Generation
What came next was the hard part: finding a new opportunity that aligned with his goals and aspirations, while grappling with new and unexpected challenges at home.
Shortly after Scott left his warehouse job, he found out his mother, Sharon, had been diagnosed with cancer. During treatment, she would need full-time care in her home. Newly unemployed, Scott decided to move in with his mother, taking on an entirely new role as her caretaker. 
"In spring 2020, at the first wave of the pandemic, I had graduated from college and had started working. Fast forward a year later, and I'm leaving that job, and my mom gets sick," Scott said. "This was also around the time I found Generation."
When Scott left his job at the warehouse, he heard about Generation USA from friends who had completed various training accelerator programs at no cost. Scott started poking around online and took interest in the Digital Marketing Analyst (DMA) track, offered locally with Florida Memorial University (FMU). 
The bootcamp-style program not only offered students Google Analytics and Facebook Blueprint certifications upon completion – building technical skills – but also provided a personal support system through mindset and behavioral training. Scott decided to apply at the end of April, and he was accepted and enrolled by May. 
"I started doing this whole program at my mom's bar counter in her one-bedroom apartment. I was doing my work there and caring for her when I was able to," Scott said. "The instructors were very understanding of that. There were moments where I had to be like, okay, hold on, and turn my camera off, because my mom needed something while I was in class. My instructors allowed for that flexibility, which allowed me to essentially be on top of the work I had to do to jumpstart my career, and take on my responsibilities at home." 
Building Technical Skills & Finding Community
Over the course of the 10-week long bootcamp, Scott worked towards completing the DMA program and certifications full time, all while taking care of his mother. Throughout that time, he worked closely with instructors and Generation mentors to perfect the technical skills in his chosen field, and also work on mindset and behavioral skills that would help him both professionally and personally.
"I was able to accomplish a lot of things in that short amount of time, and it was very intensive," Scott said. "I feel like if we hadn't started with the mindsets and the goal setting in the beginning, it probably wouldn't have pushed me to get back into the groove of being a student. I had been out of school for a full year, so it was difficult to get back into that student mindset, but I was also ready to learn." 
By September 2021, Scott completed the bootcamp and received his Google Analytics and Facebook Blueprint certifications alongside his classmates, and because the program integrated personal goal-setting, frequent check-ins and community-building exercises between instructors and fellow learners, he felt prepared to dive head first into his job search. 
Around the same time Scott completed his program, his mother's cancer had shrunk enough to a point where her doctors were able to operate and remove it. She had been put on bedrest throughout July and August, but by September she was cleared for movement and is now cancer free. 
As his mother's health continued to improve, Scott leveraged the resources and connections he made at Generation to start looking for employment again. 
"Generation's DMA program is a very challenging but equally rewarding journey for our learners," said DMA Instructor Paris Arey. "Josiah provided a very special inspiration to his classmates and instructional staff. He was always ready to help any classmate in need, even when he was facing significant responsibilities at home. In Josiah, we all saw the opportunity for each of us to achieve our goals, regardless of our personal situation."
As Scott transitioned out of the program, he connected with Krystle Jones, manager of U.S. alumni job placement at Generation, as well as Generation USA Career Coach Rolando Marazzi. Jones and Marazzi each offered additional support and guidance tailored to Scott's specific professional development goals.
"Josiah is a very respectful individual, extremely polite and down to earth," Marazzi said. "He always communicated and requested my participation in a very humble and respectful way. To me, personally, he exemplifies the ideal learner – he has a will to grow and is excited to make it happen, and he has an open mind to what will be the best route to get there."
Landing the Dream Job
This past fall, Scott accepted a digital marketing internship position with the Hockett & Associates Insurance Group (HIG), where he could apply the skills he built in the DMA virtual classroom. By the end of his internship this past winter, he was offered employment as a Digital Marketing Specialist & Assistant. He is set to begin his next role with Hockett in February 2022. 
"I was blessed to be able to celebrate my mother's recovery from her cancer treatment, and my completion of Generation USA this past fall. And since both of those coincided with each other, I was able to go into this internship and start working again," Scott said. "Generation programs allow people of all different fields or all different backgrounds – no matter where you're at – to be able to move forward. I feel like I took a risk on myself, and Generation took this risk with me."
Watch Josiah Scott's interview below.