Inside the Industry: Q&A with Demetra Brown
How to Lead Your Team Through a Crisis
Who is Pamela Harless? Tell us about yourself.
I am currently the Founder and CEO of Collective Confidence, a consultancy focused on guiding leaders to create healthy cultures that deliver impactful business results. We work with executives to help to scale, evolve and transform their companies through organizational design and culture invigoration.
Prior to starting Collective Confidence, I had a 25-plus-year career in top management consultancies, tech start-ups, global IT service businesses, a top five public accounting firm, and a premiere leadership consulting boutique.
One of my most notable career moments was the business transformation I led at a top professional services firm where over three years, the firm scaled from 5000 to 8000 employees, voluntary attrition percentages dropped from the high 20s to the low teens, and talent attraction close rates rose from 62% to 82%. In 2016, while I was the chief people and culture officer, the revenue growth rate of the firm surpassed its four larger competitors and earnings reached an all-time high. In 2017, the firm and I were recognized as a Top 100 Companies for human resources practices.
I am passionate about seeing leaders be authentic and confident in who they are, in their decisions, and how they work with others. What gets me most excited is seeing our work transform groups of people into high-functioning teams fueled by trust, respect, and alignment towards a shared vision. Although I rely heavily on our data, expertise, and capabilities, I lead with my heart, which is full of empathy, compassion, and care for my clients.
Beyond my career, I live in Dallas, Texas with my husband, Ely, and college-age son, Preston. I find delight in cooking, morning yoga, getting lost in a good book, spending time near the beach in California, and connecting with others over a steaming cup of coffee or a glass of red wine.
Considering this reality, what advice can you offer to leaders as they guide their teams and organization through the COVID crisis?
We're facing a very difficult time as a country. Many companies have had to close or suspend their business. Unemployment claims have spiked and millions of Americans have lost jobs. Some of the phrases we're hearing to describe our current moment in history are "uncertain times" and "new normal".
I encourage leaders to remain committed to their values and purpose of their organization as they navigate immediate challenges. Organizations are going to emerge from this crisis either stronger or weaker based on how they respond — there will be no neutral impact. Whether leaders are facing cost saving actions, a change in strategy, or a pivot to their products or services, they can use their values to ground decisions. Collective Confidence has designed a simple nine question framework to help leaders and their teams consider how their decisions today will impact their organization tomorrow.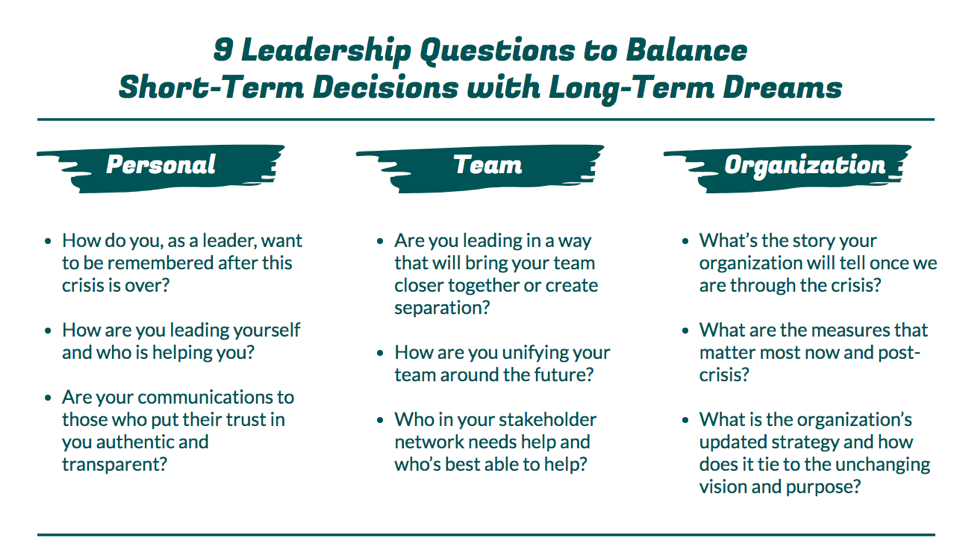 Taking the time to discuss and debate these questions not only builds clarity and confidence around your ultimate decisions, it also builds trust and hope within the team. A grounded, confident, united team is what employees need and value most right now.
There's a ton of tactical business advice out there for leaders in terms of crisis management. What do you think employees in the U.S. are seeking from their leaders in our current moment? What guidance can you offer employers around internal communications and outreach? 
Throughout this pandemic, leaders are on display. In organizations, cities, nations, or even families, the way leaders show up impacts those around them. We believe that authenticity in leadership has never been more critical or more appreciated.
What does it mean to lead authentically?
To have your actions align with your words;
To be congruent (or reliable) in your behaviors, regardless of the situation;
To leverage your uniqueness to build trust.
Examples of authentic leadership abound as we learn how to lead with certainty in who we are and what we stand for in uncertain times when little is within our control.  When it comes to leadership, most employees would trade wobbly and authentic for buttoned up and fake any day.  If you bring empathy, a genuine care for your people and a credible authentic message, you will touch the heads and hearts of your team members. Get good at this.  No truth, no trust.  No trust, no team.
If you're wondering how your organization is doing with authentic leadership communications, poll those you serve and ask them these five questions:
How connected do you feel to both the message and the messenger?
How well did we balance empathy with credibility?
What's your level of confidence in how we came to our decisions?
Are you clear about the path forward, why, and our asks for you?
Did you receive the information you needed to do your job well?
How critical is communication, especially given the rate of change we're experiencing in our society and economy?
Recently I heard Kip Tindell, the former CEO of the Container Store and Conscious Capitalism co-founder state, "Leadership = Communication. They are the same thing." In this time of uncertainty, fear and collective grief over a world that is no longer, there is nothing more important than communication. Don't confuse communication with messaging. Communication connects and engages.  It cultivates confidence. It builds trust.
Leaders often delay communicating until they have all the answers.  That won't work in a crisis when shifts happen hourly. Now is a time to be authentic, embrace wobbly, increase frequency, and take responsibility for how what you say and how you say it affects those you serve.  We use this 5 C model to guide our leadership communications.
| | |
| --- | --- |
| WHAT | HOW |
| Compassion | Empathy and caring |
| Clarity | Concise and succinct |
| Credibility | Authentic, grounded, consistent |
| Commitment | Unified message across messengers |
| Continuity | Predictable cadence |
Many leaders are under pressure to adapt quickly, shift strategy, salvage revenue, produce outcomes, and meet payroll. How can leaders keep their businesses afloat while not losing sight of their organization's future?
This is a time of paradox. Some of us must take drastic actions today in order to be around tomorrow, where others may not be around tomorrow if drastic actions are not handled with care. Acknowledging, rather than fighting the paradox, is a good first step. Brain Schultz, CEO of Studio Movie Grill has been quoted saying, "You have to survive to offer positions on the other side." Taking time as a leadership team to discuss and debate the "9 Questions to Balance Short Term Decisions with Long-Term Dreams" will help you and your teams get and stay grounded as you make your tough choices.
Tactically, I've seen some businesses – small and large – segment their leadership teams: one team focuses on responding to the crisis and the other team focuses on "business as usual," meaning tending to existing commitments across their stakeholder network. Attending to the urgent and moving the company forward is a smart strategy, one that places a bet and fosters hope for the future.
Many organizations take great pride in their culture. This seems like it would be something hard to hold onto during times of crisis. How do leaders and teams preserve a positive company culture while managing daily (and sometimes hourly) fires?

At Collective Confidence, we believe that leadership shapes culture and culture drives results. In times like these, cultures are either strengthened or exposed.  Core values are put to the test, brand promises are on trial, and leaders either show up in ways that amplify the culture or contradict it. Again, there is no neutral.  If your culture is strong, lean into it and trust it. Be explicit in naming the values as you see them in action.  For example, if respect is a company value, consider how you might celebrate respect as your teammates navigate their new work from home reality. If collaboration is a value, encourage others to shout out examples of newfound collaboration resulting from this crisis.  Bring your culture and values to light and let them shine.  Build a rallying cry around those that matter most right now and see what happens. I get goosebumps thinking about it!
—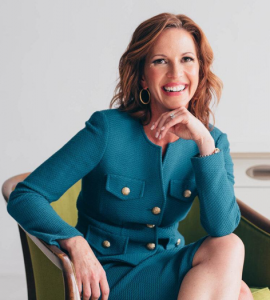 Pamela Harless is the Founder & CEO of Collective Confidence, a consultancy focused on guiding leaders to create healthy cultures that deliver impactful business results. Her team works with executives to help to scale, evolve and transform their companies through organizational design and culture invigoration. Learn more about us at collectiveconfidence.com