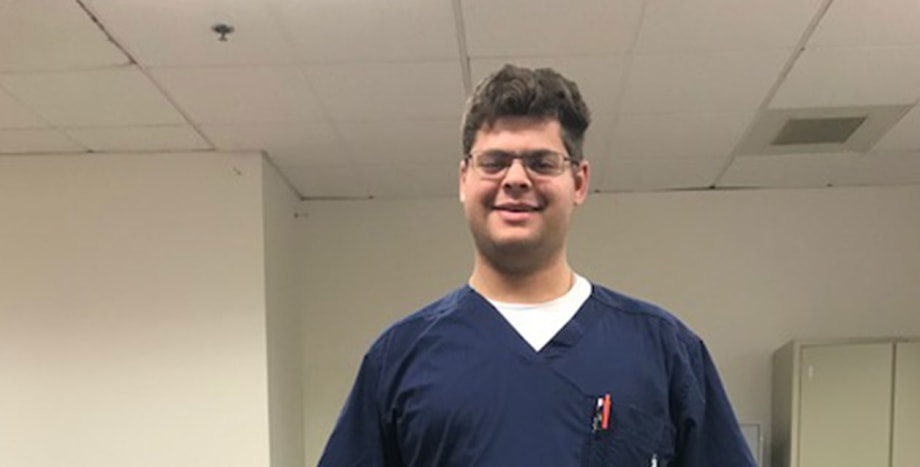 Benjamin | Wilmington, DE
Ben has worked hard to overcome obstacles in his life. In sixth grade, he was diagnosed with autism. Ben struggled to recognize emotions and he says he could never tell how someone was feeling when he looked at them. Like many Generation students, his path to education and a career was sometimes elusive. After high school, he attended college to become an engineer; after only two semesters, he recognized it wasn't the right fit. He then returned home to Pennsylvania and started the nursing program at a community college. Ben completed two semesters, but still felt frustrated with his progress. Then, he discovered Generation's Certified Nursing Assistant program.
The next step
Ben found stability and support in his Generation program. He relied on his mentors and instructors to help with assignments and questions and says that they were always there to talk through any problems or issues. Ben says that with help from Generation's tailored curriculum and quality instructors and mentors, he's started to overcome his challenges related to reading faces and emotions. In fact, Ben's current supervisors at Cadia Health say his bedside manner is top-notch. This close connection and one-on-one attention from Generation's staff helps get students like Ben to the finish line and land their dream job.
A cut above
"I joined the Generation program because it is a cut above the standard CNA program. It doesn't just teach you the skills you need, it teaches you how to act in the workplace. I also joined because there is a job waiting at the end of the course."
Generation teaches life skills
"The most valuable skill I have learned from the Generation program are the PACT skills (Professionalism, Adaptability, Compassion, and Teamwork). These skills are the most valuable to me because they can transfer to any job. And, I really enjoyed the clinicals. I was able to put the skills I have learned to practical use."
A solid path for the future
After his graduation from the Generation program, Ben started a job at Cadia Rehabilitation as a Certified Nursing Assistant. "In the future, I want to attend college to get my bachelor of science in nursing at either Lincoln University or West Chester University. Eventually, my long-term goal is to become a pediatric emergency physician, working at a Level 1 Trauma Center."