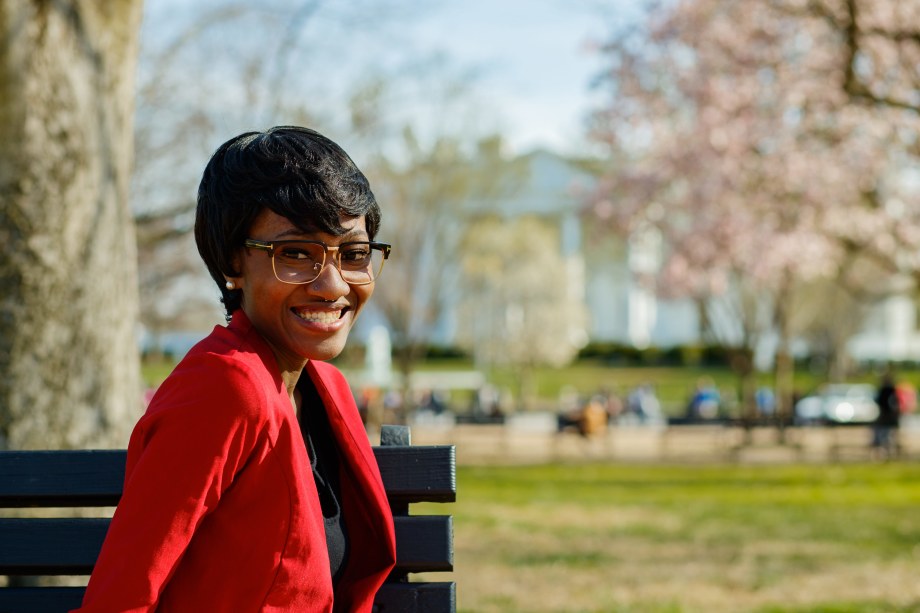 Alumni Ambassador Tamera: "I'm a part of something bigger"
When Tamera walks into a room, people notice. A self-described "outspoken encourager," her smile beams when she talks about the connections she's formed and the skills she's developed since enrolling in the Generation Hospitality program in the greater Washington D.C. area.
A friend of hers had completed the program and started a new job, but Tamera admits that she was skeptical about joining Generation. "I didn't have a job and it felt impossible to get one. I [was] filling out applications, but nothing was happening," she said. With previous experience as a catering manager, she wondered what the Hospitality program could teach her that she didn't already know.
But after her first day, she was hooked. "I had a smaller class. It was very family-oriented. We got each other, and it was a lot of conversation. And I felt comfortable."
Feeling comfortable and feeling known by a teacher wasn't something Tamera had experienced before. "That's not what you get in a lot of classrooms. It's why people don't finish," said Tamera. "[Students] were able to talk and if you didn't know, you actually could raise your hand and act out things."
A No-Excuse System
Tamera's instructors and mentors use real-life scenarios to get students to work together and role-play to learn how to handle customer service interactions at a hotel front desk or retail setting. They've created a classroom environment where students practice and learn from mistakes, and a classroom support system that extends beyond four walls.
Like Tamera, many Generation students grapple with transportation and childcare challenges, preventing them from enrolling in a training program like Generation or starting a new career. The Generation team helps to mitigate the problem by providing transportation stipends and working with local organizations to connect students with reliable childcare.
"[Generation] helps single moms and single dads because the biggest excuse is 'I have no way to get there. I have nobody to watch my child,'" she said. "They are understanding and they figure out a way to help you enough that you can't say you don't have any help. It's like a no-excuse system."
With childcare and transportation plans in place, Tamera and her classmates could focus on the intensive, 5-week program. While she was surprised by the amount of customer service knowledge she learned, the biggest surprise for Tamera was learning the importance of a great cover letter and a strong resume.
"I learned that the cover letter is what they look at first to see if they even want to open your resume. So, I made it perfect. I'm 24 and I had never written a cover letter before until I got help to do it. And it got me a job instantly," said Tamera. "Right when the program was done, I had interviews back-to-back."
New Roles, Ongoing Connections
Today, Tamera is working as a second-grade assistant teacher, a goal she had before joining Generation. She loves working with her second graders, but the certification she earned through the Hospitality program has inspired her to chart a new career path and work towards the dream of managing a hotel department. "The hospitality certificate means a lot. When you say you're certified and you have the proof, it opens up so many doors," she said.
Tamera was also selected to be a Generation Alumni Ambassador, a new program for exceptional Generation graduates who want to connect their peers to Generation programs.
"Being an ambassador, I go out and help bring people in to help them grow. There's a lot of people that are unemployed, period. Especially in D.C.," said Tamera. "And they're all young, and they don't know where to start. I didn't know where to start until someone told me. So I'm here to tell other people."
Her advice for students considering a Generation program? Don't quit. "Because what you think you know, you don't know. And having that certificate, walking across the stage, graduation, and having people that are proud of you and helping you towards that next step. Not just for [your next job], that resume and everything you learn goes a mile."