Sacramento, CA
Cybersecurity Analyst
Kick Start Your Technology Career Today
FREE
FULLY ONLINE
Join our free 16-week program to jump-start your career as a Cybersecurity Analyst. You will gain more than 100 hours of training on a cyber range and other industry standard tools.
As part of the Verizon Skill Forward Initiative, Generation USA offers you the opportunity to learn all you need to be successful in a long-term career – from the technical knowledge to the soft skills that will help you achieve your potential. After the program, graduates have the opportunity to explore different learning outcomes like apprenticeships, internships, continuing education, or full-time employment.
This program is part of our Training Accelerator programs. Learn more about the admissions process and support benefits here.
Schedule
16 Weeks
Monday-Friday, 9AM-5PM PT
Course Level
This program is designed for beginners.
What does a Cybersecurity Analyst Do?
As part of a team, a Cybersecurity Analyst monitors SIEM alerts, and manages and configures security monitoring tools. As a Cybersecurity Analyst, you provide proactive defense of a company's digital and technology solutions against cyber security threats. You work closely with departments across the organization to ensure threats and vulnerabilities are remediated effectively.
Skills You'll Earn
In every job, there are key skills that will help you be successful. We'll help you learn how to:
What You'll Learn
Operations
In this section, you will learn about:
Linux
Shell Scripting
Securing Files
Containers
Cloud Computing
Cloud Networking
Cloud Networking
Databases
Infrastructure as Code and Automation
Cloud Engineering Practicum
How You'll Learn the Material
Online Instruction
Introduction to new topics will be covered by instructors and teaching assistants. They will cover topics through a combination of lecture and live training.
Mentored Exercises
Apply your understanding of these new topics by doing, but don't worry, you'll have access to instructors and teaching assistants if/when you need guidance. On average, 75% of Generation programs are practice vs. instruction.
Real-World Experience
What good is all this knowledge if you can't apply it? By the end of this program, you will gained more than 100 hours of training on a cyber range and other industry standard tools.
Materials to Keep Going
Whether you continue your journey with self-study, or take the next steps to pursue a career in cybersecurity, we'll give you personalized guidance on how to continue after the end of the program.
Instructional Day at a Glance
Schedule Overview
You will participate in several different types of instructional sessions throughout your program that are tailored to help you succeed in work and in life.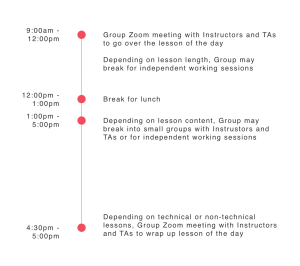 Questions? Reach Out!
The Generation Admissions and Enrollment team look forward to hearing from you and sharing how Generation can help you reach your goals.