Part-time Program
Digital Marketing Analyst
Kick Start Your Technology Career Today with
Flexible Scheduling

NO COST
ONLINE
Join our free, fully online 19-week program to jump-start your career as a Digital Marketing Analyst.
As part of the Verizon Skill Forward Initiative, Generation USA offers you the opportunity to learn all you need to be successful as a Digital Marketing Analyst  – from the technical knowledge to the soft skills that will help you achieve your potential.
After completing the program and taking the exam, you will earn your Google Analytics IQ and Facebook Blueprint certifications. After the program, graduates have the opportunity to explore different learning outcomes like apprenticeships, internships, continuing education, or full-time employment.
This program is part of our Training Accelerator programs. Learn more about the admissions process and support benefits here.
What does a Digital Marketing Analyst Do?
If you've ever gone on Facebook and seen posts from a brand you follow or searched something on Google and seen ads relevant to that search pop up, that's digital marketing! Digital marketers are responsible for connecting a brand with current or prospective customers in digital channels such as search engines, social media, email, and other websites.
Is this program right for you?
The Soft Skills
In every job, there are key skills that will help you be successful. We'll help you learn:
The Technical Knowledge
Our Digital Marketing Analyst program is designed to equip learners with the skillsets and expertise they need to succeed:
Introduction to Role
In this section, you will learn:
Effective workplace communication and collaboration
How to stay up-to-date with marketing trends
Problem-Solving
Marketing Fundamentals
In this section, you will cover:
Creating Digital Marketing Plans
Defining Objectives and KPIs
Determining Appropriate Marketing Channels and Actions
Measuring Outcomes with Google Analytics
Branding and Tooling Fundamentals
In this section, you will learn about:
Corporate Branding
Personal Branding
Blogging and Wordpress
Image Content and Canva
Video Content and Shotcut
Email Marketing
Search Engine Optimization (SEO) & Search Engine Marketing (SEM) Tools
In this section, you will be cover:
On-page & Off-page SEO
Google Tools for SEO, including Google My Business, Google Trends, and Google Search Console
SEM Campaigns and Ad Extensions
SEM Reports and Interpretation, with an emphasis on Google Ads
Google Display
The Learning Process
Online Instruction
Introduction to new topics will be covered by instructors and teaching assistants. They will cover topics through a combination of lecture and live coding.
Mentored Exercises
Apply your understanding of these new topics by doing - but don't worry, you'll have access to instructors and teaching assistants if/when you need guidance. On average, 75% of our programs are practice vs. instruction.
Real-World Experience
What good is all this knowledge if you can't apply it? By the end of this program, you will be prepared to complete the Google Analytics IQ and Facebook Blueprint Certifications.
Materials to Keep Going
Whether you continue your journey with self-study, or take the next steps to pursue a career in web development, we'll give you personalized guidance on how to continue after graduation.
Your Week at a Glance
Schedule Overview
You will participate in several different types of instructional sessions throughout your program that are tailored to help you succeed in work and in life.
During the part-time program, you will review the same content available in the full-time program. You will also receive the same support from instructors, teaching assistants and career coaches. The main difference is the part-time program is more self-directed than the full-time program.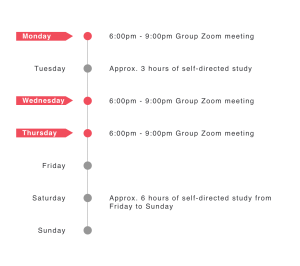 Start Your Generation Journey Today
What You'll Need To Start
No prior technical training or web development experience is required.
Technology assistance is available to students who qualify.
When you apply to Generation, you join a community of fellow learners, educators and advisors who are there to cheer you on from the application process through graduation and beyond.
Learner Testimonials
"
Generation programs allow people of all different fields or all different backgrounds – no matter where you're at – to be able to move forward. I feel like I took a risk on myself, and Generation took this risk with me. My instructors allowed for that flexibility, which allowed me to essentially be on top of the work I had to do to jumpstart my career, and take on my responsibilities at home.
"
Josiah Scott,
Digital Marketing Analyst