"Wellness Redefined: Music in the Park" Highlights Mental Health, Wellness in Jacksonville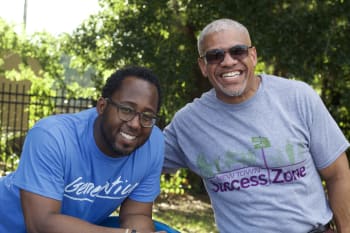 "This is what we've been working towards," said Maya Francis, CLIMB coordinator at Generation Jacksonville. Francis had just wrapped up the May 30 "Wellness Redefined: Music in the Park" event hosted by Community Leaders Igniting Mobility (CLIMB). CLIMB is a non-profit coalition sponsored by Generation, the United Way of Northeast Florida, and LISC Jacksonville. Eastside Community Development and Northeast Florida Health Start worked alongside CLIMB to put on the event.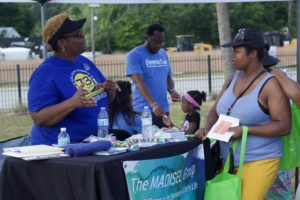 The seeds of "Music in the Park" were planted months ago when CLIMB began organizing a trio of community forums across Jacksonville. In 2018 and 2019, the coalition hosted community forums in Arlington, the historic Eastside community, and New Town to hear directly from residents about the barriers to employment and opportunities for social mobility that they have faced. Together, the group has been using the community input to continue the conversation around multifaceted challenges including childcare, transportation, and social support.
One issue that many residents raised during the forums was a need for resources and awareness around mental health. Community members expressed the stigma that is often attached to seeking help for mental health, wellness, and resources in Jacksonville.  "There are so many great organizations in Jacksonville offering mental health and wellness services," said Francis. "The issue was connecting the dots and bringing together members of the community so that they could explore these organizations."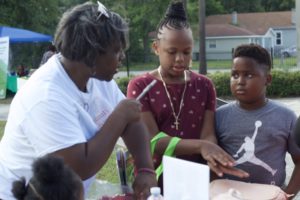 That spirit of connection and exploration permeated the evening at A. Philip Randolph Heritage Park. Guests were greeted by bright banners, tents, and tables of ten different community organizations. Music played as Chelsey Reeves of the American Heart Association demonstrated CPR basics for adults, teens, and tweens. Fathers stopped by the Fatherhood P.R.I.D.E. booth to learn about the programs offered for dads, and Sandra Johnson of the Madisel Group discussed the family, child, and teen counseling programs and workshops that are available for the Jacksonville community.
Along with the resource fair, CLIMB partners also planned fun and engaging activities for residents of all ages. Children enjoyed dancing to the music and blowing bubbles with staff members while their families explored the different tables and organizations. The CLIMB team served up hot dogs and hamburgers all evening, and Yoga for Change offered a free yoga class that emphasized the connection between mind and body.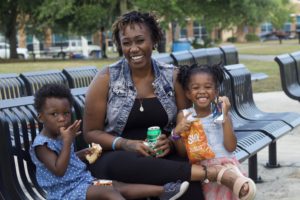 While the food was served, two guest speakers shared about their own mental health experiences. Their perspectives offered two glimpses into the complexity of mental health and speak to the need for continued engagement and outreach.
"Mental health and wellness is not an issue that can be solved with one event," said Francis. "CLIMB and our partner organizations know that this night is a first step towards raising awareness and a part of our continuing conversation about access and opportunity in Jacksonville."