Twice the Celebration in Wilmington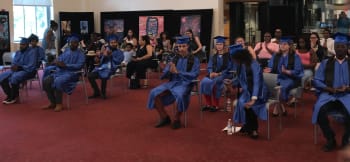 Generation Hosts Joint Graduation Ceremony for First Cohort of Pre-Apprentice Construction Helper and Fourth Cohort of Universal Banker Graduates
This month, the Generation team in Wilmington brought together families, friends, and community leaders to celebrate the graduates of two Generation programs. Twenty-three graduates of the first class of Pre-Apprentice Construction Helper and Universal Banker programs received their diplomas in the region's first joint graduation.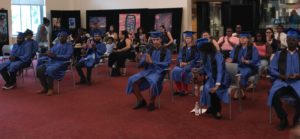 "We had initially planned for two separate graduations, but scheduled a rehearsal for both groups of students to practice together," said Donna Toney, program coordinator for the Universal Banker program. "We did a brief icebreaker and before we knew it, the students were talking with one another, asking about what they were learning, and building relationships. Keeping them together to celebrate this milestone was a natural fit."
The students were surprised to learn that while they were in programs focused on very different sectors, they felt an immediate connection to their fellow Generation participants. Students later told Toney that they were happy to learn more about the alumni community that Generation fosters, in Wilmington and across the country.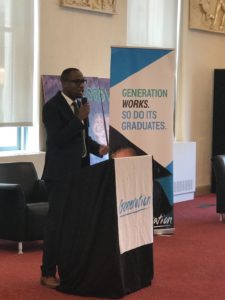 When graduation day came, families and friends arrived at the Wilmington Public Library and mingled together. The graduates sat at the front of the room in caps and gowns, and enjoyed another benefit of a joint graduation: two community leaders who presented keynote addresses. Delaware Secretary of the Treasury Colleen C. Davis, who had previously visited the Universal Banker classroom this summer, shared an inspirational speech about the power of persistence when switching careers and shared her personal journey of beginning her career as a Physician's Assistant and moving into government and public policy.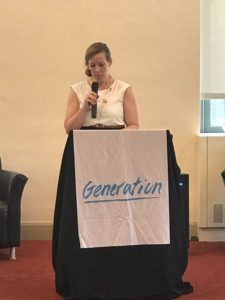 Jeff DiSabatino, President of DiSabatino Construction Company and Chairman of the Associated Builders and Contractors-Delaware Chapter, urged graduates to take on challenges and to always keep learning in their new careers.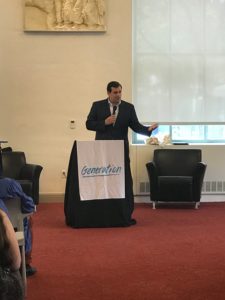 The graduation ceremony concluded with a reception full of hugs, photos, and a congratulatory cake. And after the celebration, the graduates were ready for the next step of their career journeys: interviewing for job openings with Generation employer partners. The graduates had already been working with Generation mentors to develop strong resumes and cover letters and both programs hosted mock interviews for participants. More than 76% of Generation USA graduates are employed within three months of graduation. Three of the Pre-Apprentice Construction Helper graduates received job offers within a week of graduation. Generation was even able to help a graduate purchase his first pair of steel-toe boots so that he could begin work on a construction site immediately.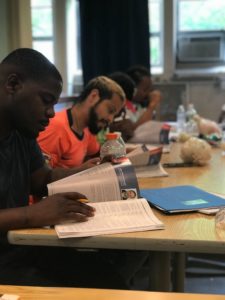 Both the Pre-Apprentice Construction Helper and the Universal Banker programs are accepting applications for future cohorts. If you or someone you know is interested to gain new skills and start a new career path in the Wilmington community, visit usa.generation.org/wilmington-de.