Generation USA receives $1 million grant from Ascendium Education Group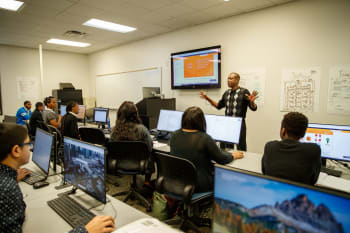 The funding will help the nonprofit expand its community college partnerships
August 31, 2021
Generation USA, a nonprofit organization that transforms education to employment, has received a $1 million grant from Ascendium Education Group to support its "Scaling Community College Partnerships to Expand Access to Technology Careers" project.
The grant will help fund the expansion of Generation USA's proven model of partnering with community colleges to connect learners from low-income backgrounds with quality technology training that leads to upward socioeconomic mobility and careers. For 18 months, Generation USA will test three types of partnerships with community colleges to find the best ways to successfully scale their model.
Generation plans to increase partnerships from 15 community colleges in 2021 to 20 community colleges in 2022 and then to 40 across five regions by 2023-2024. Over the grant period, Generation USA will assess whether it is more impactful to work with a large number of community colleges with a smaller cohort of students at each college or a handful of key community college partners with larger student cohorts at each college.
Currently, Generation USA covers 60% of the community college partnerships' costs. The total cost for partnering with 15 community colleges in 2021 is $3 million. The bulk of the Ascendium grant will go toward these costs, with $10,000 being used for administrative expenses.
"We're incredibly grateful for this substantial support from Ascendium that will allow us to keep expanding our efforts for thousands of students to find careers," says Sean Segal, Generation USA CEO.
For more information about Generation USA, visit usa.generation.org.
—
About Generation
Generation USA is a nonprofit organization that provides free career training, placement, and support to help people find life-changing careers. The global pandemic has led to an unprecedented surge in unemployment — 375 million workers of all ages needed to learn new skills by 2030. To date, more than 40,000 people have graduated from Generation programs around the world. For more, visit usa.generation.org.
About Ascendium Education Group
Ascendium Education Group is a 501(c)(3) nonprofit organization committed to helping people reach the education and career goals that matter to them. Ascendium invests in initiatives designed to increase the number of students from low-income backgrounds who complete postsecondary degrees, certificates and workforce training programs, with an emphasis on first-generation students, incarcerated adults, rural community members, students of color and veterans. Ascendium's work identifies, validates and expands best practices to promote large-scale change at the institutional, system and state levels, with the intention of elevating opportunity for all. For more information, visit www.ascendiumphilanthropy.org.