Generation USA Partners with Miami Dade College at Cloud Computing Business Roundtable
Generation USA and Miami Dade College convened business leaders to discuss partnership; recruiting and retaining entry-level, cloud computing talent
Generation and Miami Dade College (MDC) convened a group of technology business leaders to discuss entry-level cloud computing talent at the MDC Cloud Computing Center on Feb. 27. The two organizations led discussions with employers about working together on future training programs and curriculum development.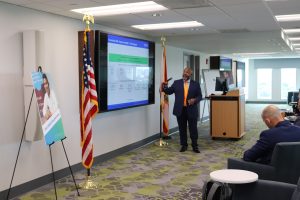 "We're gathering employers and educators together to encourage collaboration among all of the stakeholders," said Generation USA Partnerships Lead, Sienna Daniel. "Our goal is to build an apprenticeship model for our tech programs, something we know works well here in Miami, to benefit the community, the students we serve, and to support the success and growth of our employer partners."
According to the World Economic Forum's Jobs of Tomorrow Jan. 2020 report, over the next three years, 12% of job openings in emerging professions will be in engineering and cloud computing, with a staggering 34% annual growth rate.
Tia Dubuisson, president of Belle Fleur Technologies, an AWS APN Advanced Consulting Partner specializing in data transformation and professional services, shared her insights and experiences working with interns from Generation and MDC. To date, Belle Fleur has hired 17 Generation graduates for their internship program.
"Tech should be rated 'E' for everybody," said Dubuisson. "No one should be left out. We feel our company is the door and we can open it for everyone."
Dubuisson went on to say Generation graduates' camaraderie, communications, and technical skills are impressive. "They're dedicated. They're truly serious and they already know their strengths and weaknesses coming to the job," she said. "Day one, we could just get going."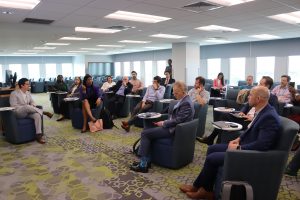 Representatives from Microsoft, FPL, Slalom, and NUB8 Data Analytics and Cloud Services also attended the event.
In collaboration with Miami Dade College, Generation has operated tech training programs in Miami since 2015 and has graduated nearly 350 students throughout the city. 85% of graduates are still on the job after one year and 70% of Miami students are hired within 90 days of graduation.
In total, more than 35,000 individuals have graduated from the Generation program globally, which prepares individuals for careers in 150 cities across 13 countries.  Generation works with more than 3000 employers globally and a wide range of implementation partners and funders.
To learn more about Generation USA, visit usa.generation.org/miami.