Generation USA Awarded $2,500 Grant for Jacksonville Youth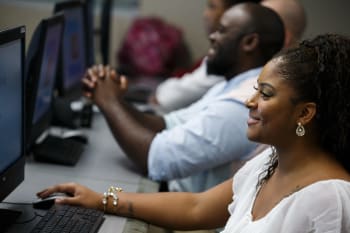 Funding from Wells Fargo will provide vital employment training in 2020
Generation USA received a $2,500 grant from Wells Fargo to support efforts to train 350 students for IT, Customer Service and Administrative Medical Assistant programs in 2020.
"This investment in young adults in Jacksonville will help support our youth employment training programs in IT and administrative healthcare programs," said Place-Based Programs Lead, Alex Rudnick. "By supporting our communities and providing the training and foundation they need, we're proud to call Wells Fargo a partner."
Generation began its first Jacksonville program in 2016 and currently offers three unique employment training programs, also supported by Walmart and CareerSource of Northeast Florida. More recently, the team celebrated a milestone — serving 500 graduates in the region.
Earlier in 2019, Wells Fargo awarded a similar grant for Generation programming in Atlanta, supporting employment training for 80 students. In addition to the financial support they provided, Wells Fargo volunteered to lead a "Get Smart About Credit" workshop in October for Atlanta participants. Students were exposed to critical strategies for responsible spending and saving, as well as ways to build good credit, led by Wells Fargo staff.  Both organizations are looking to explore similar volunteer opportunities and partner in Jacksonville as well as other Generation program locations.
Generation USA is a workforce development nonprofit founded in 2014 by consulting management firm McKinsey & Company. The organization offers bootcamp-style employment training programs for young adults and mid-career workers, preparing them to enter sectors such as customer service, hospitality, and technology. After completing a Generation USA program, the organization connects graduates with local employers who are hiring for entry-level roles. More than 2,500 students have graduated from Generation USA programs and 76 percent of graduates remain employed in a new career one year after graduation.
To learn more about Generation USA, visit usa.generation.org/jacksonville.