Generation Launches First Training and Employment Program in Detroit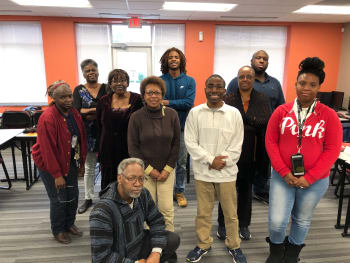 Nonprofit organization Generation and Goodwill Industries of Greater Detroit have partnered to offer a Customer Care employment program designed to prepare young people for sustainable careers.
Free program in partnership with Goodwill Industries of Greater Detroit offers life-changing career opportunities for young adults
Nonprofit organization Generation and Goodwill Industries of Greater Detroit have partnered to offer a Customer Care employment program designed to prepare young people for sustainable careers.
Available free of charge to eligible applicants, the first five-week program will launched Nov. 6. Three additional training sessions will follow, providing an ongoing window of opportunity for Detroit's unemployed and underemployed youth. In addition to mastering valuable technical and soft skills, after completion of the program, all graduates are connected with Generation employer partners.
According to the Bureau of Labor Statistics (BLS), while the national unemployment rate reached a fifty-year low of 3.5%, Detroit's unemployment rate was 4.5%. More than 90,000 customer service representatives were employed in Michigan, reported the BLS.
"Today's economic conditions can create a path for young people to join the workforce and build their futures—but first, it's essential that they receive training that positions them for success," says Sean Segal, chief operating officer at Generation USA. "That's why we work closely with employers as well as community groups such as Goodwill to tailor our workforce development programs to meet the specific, current needs of local businesses and residents."
Driven by a mission to empower young people to build thriving, sustainable careers, Generation is an independent nonprofit organization launched in 2014 by McKinsey & Company that provides employers with a pipeline of highly-skilled, motivated talent. Generation USA has programs across 13 cities serving more than 2,000 participants in four sectors: technology, healthcare, skilled trades, and customer service.
Goodwill Industries of Greater Detroit served 11,135 people in 2018 and has a 98% approval rating from those who received employment services.
"We are pleased to welcome Generation to Detroit and support them in this unique partnership. With their expertise in offering a new kind of Customer Care employment program and Goodwill Detroit's personal development competencies, we're able to work together to provide a community-centered program for building technical and soft skills," says Niko Dawson, Executive Director of Goodwill Detroit's Flip the Script.
The Customer Care training and employment program is open to people ages 18+ who have earned a high school diploma or GED; are authorized to work in the U.S. and can pass a background check, and are currently unemployed or underemployed (less than 40 hours).  Classes for the first session will be held Monday-Friday, 10 a.m. to 3 p.m., from Nov. 6 through Dec. 13 at Goodwill North End Career Center, 2777 East Grand Boulevard in Detroit.
Technical skills covered in the program include:
Management of register and point-of-sale systems
Cross-selling and up-selling techniques,
Fast math skills and memorization techniques
De-escalation strategies and effective communication skills.
Behavioral skills include:
Working on a team,
Focusing on customers,
Solving problems,
Managing time.
Generation takes a holistic approach to student support, with coaching by instructors and mentors, resume building and mock interviews. Support continues for 12 months after graduation, with follow-up mentorship and social support services. Participants have the opportunity to earn a National Retail Federation Certificate.
Generation Detroit's Program Coordinator Mike Wolking concludes, "We are proud that 88% of our employers say that Generation graduates perform better than average and  look forward to helping Detroit's businesses find the employees they need to grow, while enabling the city's young people to gain the independence and pride employment can bring."
For more information on the program, please visit: https://usa.generation.org/detroit/customer-care/.
About Goodwill Detroit:
As the original social enterprise, the work of Goodwill Detroit supports more than 900 local businesses across southeast Michigan's five counties. Our revenue-generating businesses, Goodwill Industrial Solutions, Goodwill Green Works, Donated Goods Retail, as well contract and placement services, allow us to provide best-in-class employment and training opportunities and programming to residents in and around Detroit. Committed to supporting the underserved, returning citizens, the under- and unemployed, and those living with mental illness or intellectual/developmental deficiencies, Goodwill Detroit's mission is to co-create independence and dignity through the power of personal and workforce development. Goodwill Industries of Greater Detroit was founded in 1921, by Reverend John Martin, and is an affiliate of Goodwill Industries International. For information please visit, goodwilldetroit.org