Generation Launches Administrative Medical Assistant Employment Program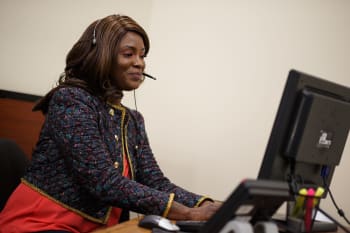 Free employment training program in partnership with CareerSource Northeast Florida will  prepare young people for sustainable career path.
Generation has launched an Administrative Medical Assistant training and employment program to help young people who are underemployed or unemployed embark on a career in this burgeoning field. Presented in partnership with CareerSource Northeast Florida, the program is free of charge to eligible applicants. Six five-week sessions will be held between now and June of 2020.
According to the U.S. Bureau of Labor Statistics, the projected job growth between 2018 and 2028 is 23% for medical assistants, while the average growth rate for all occupations is 5%. A recent report from the Florida Department of Economic Opportunity found that education and health services sector job gains were up by 4.3%, indicating major growth. The jobless rate in the Jacksonville metropolitan area remained at a low 3.5%.
"The current economy represents an outstanding opportunity for young people to be employed in steady, full-time careers, build their futures, and contribute to their communities," says Sean Segal, Chief Operating Officer for Generation USA. "However, it is crucially important that we engage youth who have barriers to employment in training initiatives that align with the jobs that are available — a key element to Generation's model."
Driven by a mission to empower young people to build thriving, sustainable careers, Generation is an independent nonprofit organization launched in 2014 by McKinsey & Company that provides employers with a pipeline of highly-skilled, motivated talent. Generation USA has programs across 14 cities serving more than 2,500 participants in four sectors: technology, healthcare, skilled trades, and customer service. 
Generation began partnering with Jacksonville employers and community organizations in 2016. Currently, the Jacksonville program offers three employment programs: Administrative Medical Assistant, Customer Service Supervisor and IT Help Desk Technician. 
According to Generation Jacksonville's Program Lead, Alex Rudnick, "More than 84% of our graduates find full-time work within 90 days of completing the programs. With 590 graduates in Jacksonville, we are proud to be contributing to the economic health of the city and its residents." 
The Administrative Medical Assistant program is open to people ages 18-24 who have earned a high school diploma or GED; are authorized to work in the U.S. and can pass a background check, and are currently unemployed or underemployed and face a barrier to full employment. After completing an online application, potential students have a phone interview, followed by orientation. They attend class from 9:00 am to 3:00 pm Monday through Friday for five weeks at Generation Jacksonville's office at 320 East Adams Street. 
Technical skills covered in the program include: scheduling patients, verifying insurance, maintaining patient records and privacy; and using phone and computer software to contact patients. 
"The participants also learn crucial behavior and mindset soft skills that are transferable as their careers continue to grow," says Rudnick. "Things such as how to work on a team, communicate effectively, focus on patients, and demonstrate accuracy and attention to detail."
Students study and practice for the CMAA certification exam, which they take together upon completion of the training.
To spur motivation, Jacksonville alumni are invited into the classroom to give advice and mentorship to the current students. The alumni platform, GenConnect, allows students to connect with staff, classmates, and alumni both during the coursework and following graduation. In partnership with CareerSource, participants have opportunities to attend skills seminars and job fairs, conduct job searches, and interview with potential employers.
Generation Jacksonville offers follow-up mentorship and social support services to program participants for the first 12 months after graduation, throughout the transition to a new job and lifestyle. Sean Segal concludes, "Our goal is to maintain a flexible mindset that will help young people succeed at their new jobs from day one and maintain their upward trajectory." 
For more information on the program, please visit: https://usa.generation.org/jacksonville/administrative-medical-assistant/