Generation in Jacksonville Receives $300,000 Grant from the Jim Moran Foundation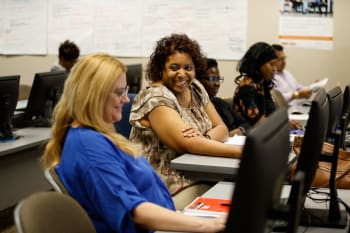 Funding will support workers aged 40+ in reskilling initiatives
Generation in Jacksonville recently received a $300,000 grant to be awarded over two years from the Jim Moran Foundation. The grant funding will be used to support Generation in Jacksonville's ReGeneration program, a worker reskilling initiative designed to help Jacksonville adults aged 40+ who have been displaced from their previous professions transition to new career pathways in information technology (IT).
A 2019 Brookings Institution report titled "Automation and Artificial Intelligence" estimated that more than 25% of jobs in Jacksonville are at high risk of automation and displaced older workers often face more difficulty reentering the workforce due to a deficiency in digital and technological skills. That deficiency becomes even more problematic considering the IT sector is one of the industries with the biggest potential for expansion in Northeast Florida, with projections calling for growth of more than 15% through
2027 and the addition of more than 7,350 jobs. 
In tandem, the economic fallout of the COVID-19 pandemic has left more than 30 million people unemployed in the U.S. alone, a rate unseen since the Great Depression. As such, Generation has reconsidered its role in responding to the pandemic, realizing the need to reskill was eminent and training across all ages in professions that will rebound quickly is necessary for recovery in cities like Jacksonville.  
"It is imperative to connect our students with the technical training and guidance to succeed in an evolving economy," says Alex Rudnick, program director in Jacksonville. "Doing so empowers them to re-achieve economic stability for both themselves and their families."
The grant from The Jim Moran Foundation will help Generation in Jacksonville boost placement efforts for its growing number of ReGeneration students throughout 2020 and the COVID-19 pandemic. The average cohort enrollment for ReGeneration in Jacksonville has outpaced that of youth programming by about 42%. But 90-day job placement figures for ReGeneration students lag their younger counterparts by about 30%.
With this funding, a placement specialist will also focus on strengthening connections between students and local employers. The program seeks to improve its 90-day graduate placement rates by 27%, increasing from the 2019 mark of 48% to a 2020 goal of 75%. "This would put ReGeneration on par with youth programming and ensure that older workers enrolled have a more rapid pathway to improved economic mobility," says Rudnick.
"We are excited that our partnership with Generation in Jacksonville will provide unemployed and underemployed individuals with new career opportunities for brighter futures﹘especially during this very uncertain and challenging time," said Jan Moran, chairman and president of The Jim Moran Foundation.
Generation is a global workforce development nonprofit founded in 2014 that seeks to provide high-quality, employer-driven job training to under-resourced young adults and displaced older workers, connecting them to living-wage career pathways that can greatly increase current and future economic mobility.
Founded by automotive pioneer Jim Moran, the mission of The Jim Moran Foundation is to improve the quality of life for the youth and families of Florida through the support of innovative programs and opportunities that meet the ever-changing needs of the community.
The Foundation has invested more than $155 million in education, elder care, family strengthening, and youth transitional living initiatives since its inception in 2000 with efforts currently focused in Broward, Palm Beach and Duval counties.  Through a long-term Grant Agreement, The Foundation's significant funders are JM Family Enterprises, Inc., and its subsidiaries, including Southeast Toyota Distributors, LLC.
The Jim Moran Foundation was established in 2000 by automotive pioneer Jim Moran and works to improve the quality of life for youth and families throughout Florida. The Foundation has invested more than $150 million in education, elder care, family strengthening, and youth transitional living initiatives.