Generation Atlanta Awarded New Grant to Expand Hospitality Worker Program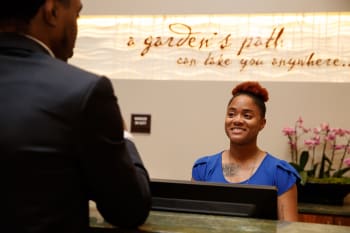 The Annie E. Casey Foundation grant will fund community outreach,
recruitment in Southwest Atlanta
Generation Atlanta received a $70,000 grant from the Annie E. Casey Foundation in support of the organization's Hospitality Worker program. The new grant will focus on community outreach and engagement in and around Atlanta's Neighborhood Planning Unit V.
"The Annie E. Casey Foundation has a long history of investing in innovation that builds strong communities. We are honored to receive this grant and look forward to building new relationships with local community members and organizations," said Generation USA COO Sean Segal.
The Atlanta Hospitality Worker program began in 2017 and has graduated seven cohorts of participants. This 5-week, bootcamp-style class focuses on technical and soft skills needed to work in customer and guest relations roles in the hospitality industry. Hands-on classroom sessions focus on effective communication, mastering point-of-sales systems, and customer service techniques. Graduates earn the American Hospitality and Lodging Educational Institute Customer Service Certification and receive support from Generation staff as they apply and interview with international hotel groups in Metro Atlanta.
The Annie E. Casey Foundation grant will enable greater collaboration with grassroots community organizations and expand program recruitment.
"Generation has developed an impressive track record connecting young adults to careers that offer opportunities for advancement," says Janelle Williams, Ph.D., a senior associate with the Annie E. Casey Foundation's Atlanta Civic Site. "We are pleased to partner with them and look forward to expanding these resources to NPU-V and Southside job seekers."
Generation is proud to partner with Saving our Sons and Sisters International (SOSSI), an organization that mentors, educates, and coaches students, teachers, and community partners while providing collaborative resources. SOSSI will help Generation assemble community advisory boards to discuss the obstacles that young adults in Atlanta face, and strategies for connecting young people with Generation programs. 
"Generation is proud to partner with the SOSSI team on our upcoming recruitment initiatives," said Natosha Briscoe, program coordinator for the Atlanta Hospitality Worker program. "We look forward to collaborating with their team and connecting with more prospective students."
To learn more about the Atlanta Hospitality Worker program, visit usa.generation.org/atlanta/hospitality. Applications are currently open and the next cohort of the program will begin on August 19.