National
Junior Web Developer
Kick Start Your Web Development Career Today
NO COST
ONLINE
Join our free, online 11-week program to jump-start your career as a Jr. Web Developer.
As part of the Verizon Skill Forward Initiative, Generation USA offers you the opportunity to learn all you need to be successful in a long-term career – from the technical knowledge to the soft skills that will help you achieve your potential. After the program, graduates have the opportunity to explore different learning outcomes like apprenticeships, internships, continuing education, or full-time employment.
This program is part of our Training Accelerator programs. Learn more about the admissions process and support benefits here.
What does a Junior Web Developer Do?
A Junior Web Developer works with a team of developers to create new websites and applications. The "junior" designation means you work under the supervision of senior developers in your department, but you may be involved in all stages of the project, from brainstorming to final testing. As a Junior Web Developer, you review web design needs and preferences and provide advice on website maintenance.
Is this program right for you?
The Soft Skills
In every job, there are key skills that will help you be successful. We'll help you learn:
The Technical Knowledge
Our Junior Web Developer program is designed to equip learners with the skillsets and expertise they need to succeed:
JavaScript for Web Development
In this section, you will be introduced to and learn:
JavaScript: Basic Data Types, Operators, and Conditionals
JavaScript: Functions, Scoping, and Program Flow
Object-Oriented Framing
Asynchronous JavaScript and Requests
How to Build Interactive JavaScript Websites with DOM manipulation
The Learning Process
Online Instruction
Introduction to new topics will be covered by instructors and teaching assistants. They will cover topics through a combination of lecture and live coding.
Mentored Exercises
Apply your understanding of these new topics by doing – but don't worry, you'll have access to instructors and teaching assistants if/when you need guidance. On average, 75% of our programs are practice vs. instruction.
Real-World Experience
What good is all this knowledge if you can't apply it? By the end of this program, you will be prepared to complete the JavaScript Certification granted by W3Schools.
Materials to Keep Going
Whether you continue your journey with self-study, or take the next steps to pursue a career in web development, we'll give you personalized guidance on how to continue after graduation.
Your Day at a Glance
Schedule Overview
You will participate in several different types of instructional sessions throughout your program that are tailored to help you succeed in work and in life.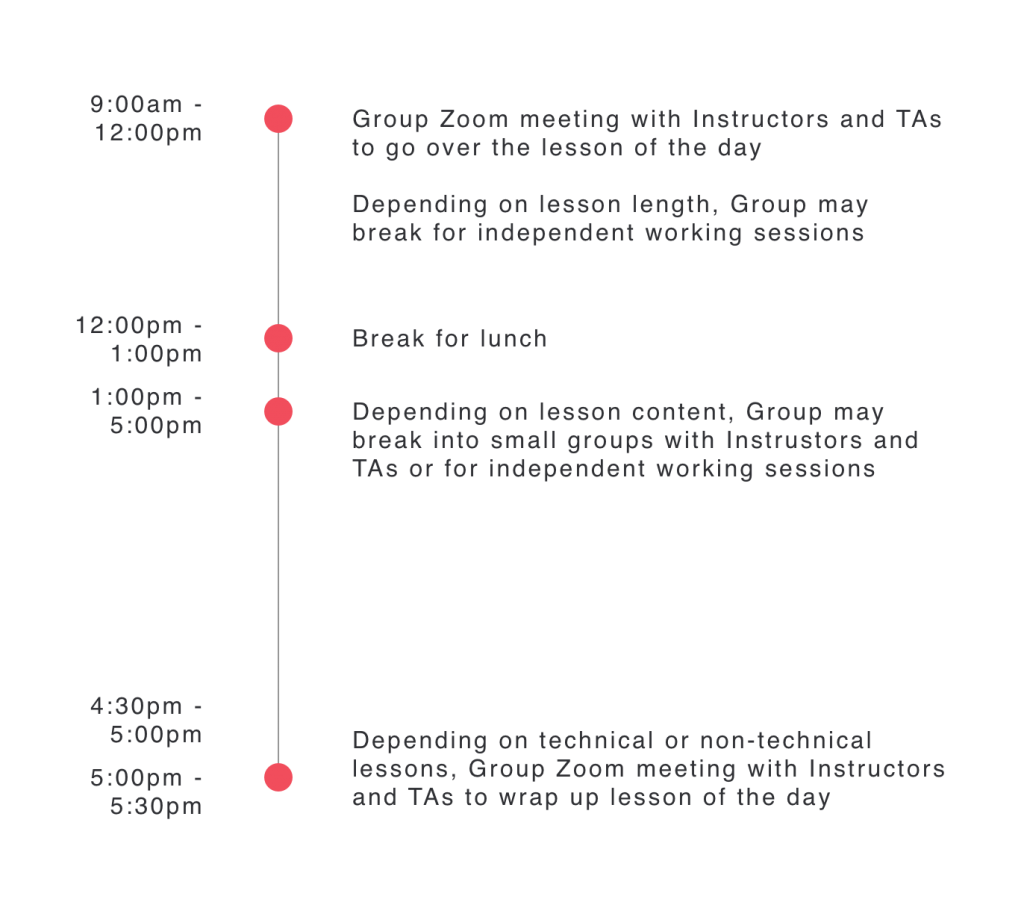 Start Your Generation Journey Today
What You'll Need To Start
No prior technical training or web
development experience is required.
Technology assistance is available to
students who qualify.
When you apply to Generation, you join a community of fellow learners, educators and advisors who are there to cheer you on from the application process through graduation and beyond.
Learner Testimonials
"
Just a year ago I took a leap of faith to engage in an industry that I didn't know and finally achieved a career in software engineering. Huge shout outs to Generation USA for preparing me for this opportunity in not only the technical side of programming, but in what it means to work alongside a team and beyond.
"
Martin Renteria
Junior Web Developer, National Cohort