National
Junior Web Developer+
Kick Start Your Career Today - Online Program
Join our free, online 15-week program to jump-start your tech career. In addition to our traditional Jr. Web Developer program, Dev+ gives you access to additional skills through Opportunity College's Foundations for Success program. Together, this partnership offers you the unique opportunity to learn all you need to be successful in a technology career – from the technical knowledge to the soft skills that will help you achieve your potential. After the program, graduates have the opportunity to explore various options like apprenticeships, internships, continuing education, or full-time employment.
Learners in this program will have a one-week break during the July 4th holiday week. 
Individuals who live in NYC, N.J., and Washington, D.C. are encouraged to apply, however consideration will be given to all applicants, regardless of location.
Program Length
15 Weeks
Monday-Friday, 9AM-5PM
Fully Online
Start Date
Next Cohort: June 14, 2021
Presented in partnership with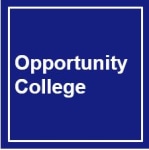 Questions?
Visit our Frequently Asked Questions page for answers to many commonly asked questions.
What does a Jr. Web Developer Do?
A Junior Web Developer works with a team of developers to create new websites and applications. The junior designation means you work under the supervision of senior developers in your department, but you may be involved in all stages of the project, from brainstorming to final testing. As a Junior Web Developer, you review web design needs and preferences and provide advice on website maintenance.
Skills Earned
Technical Skills
---
We'll help you learn the technical skills with lots of hands-on, interactive sessions. By the end, you'll know:
Programming Fundamentals
Java Script
Web Development Fundamentals
Relational Databases
Problem Solving
Data Structures & Algorithms
Behavior & Mindsets
---
In every job, there are key skills that will help you be successful. We'll help you learn how to:
Communication
Teamwork
Proactiveness
Personal Responsibility
Future Orientation
Growth
Persistence
Adaptability
Additional Dev+ Skills
---
You will learn how to continuously develop and apply these skills to learning, living, and leading in school, the workplace, and society.
Grit
Time Management
Healthy Habits
Professionalism
Teamwork
Leadership
Intercultural Competence