Your
donation

helps us get Jax
back to
Work
Our programming isn't free, but it is
free

for our students.
Every donation helps pay our expert instructors, supports a student's stipend, paid internship, purchases a student's laptop, or pays for industry-recognized credentials.
What's
Generation?
Generation's mission is to give free access to career training and jobs with a future. We provide technical skills training, support and coaching, mentoring, and a lifelong network for our graduates.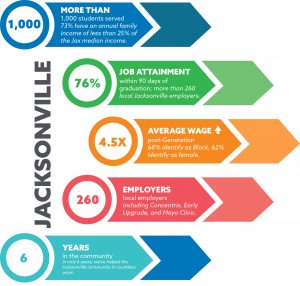 Lareyes
Post-Job
Junior Practice Administrator
Total Foot Care and Wellness Clinic
Laid off from her job due to the COVID-19 pandemic, Lareyes felt she had little to no opportunities available to her. She had call center experience but needed technical skills to move ahead.
"A life-changer.
This program is 100% what you make it. If you take what you've learned and apply it to your personal and work life you will do nothing but elevate.
"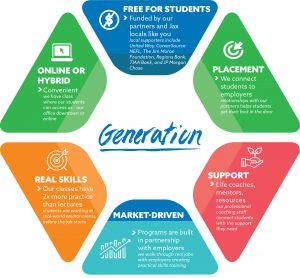 In the
Community
We know that in Northeast Florida, barriers to prosperity often leave generations of families struggling to move out of poverty. According to the United Way's ALICE report of 2018, 13% of these struggling households were LIVING BELOW the Federal Poverty Level, another 33% were "Asset Limited, INCOME-CONSTRAINED, EMPLOYED" (ALICE). These households earned above the Federal Poverty Level, but not enough to afford basic household necessities. Now, amidst the fallout of the COVID-19 pandemic, families of color and women-led households are more vulnerable to the falling economy and are being left out of an equitable recovery.
AS THE LEAD PARTNER of CLIMB for the past 4 years in partnership with organizations like LISC, United Way, and Revitalize Arlington, Generation has participated and led community forums and events, and has engaged with employers to unearth the barriers to employment from both the perspective of our residents and job providers in Newtown, Eastside, and the Arlington neighborhoods.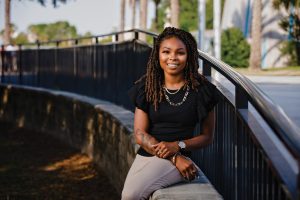 Kenyetta
Post-Job
Technology Support Specialist
Second Mile Ministries
After losing her job but taking steps to further her education, the COVID-19 pandemic hit and Kenyetta was feeling the financial and social pressures. Without a family network locally and searching for a way forward, she found Generation online. Convinced by the curriculum, support, coaching, and free certification testing, Kenyetta was "all in."
"I am a natural-born leader.
I learned resilience triumphs all things and that practicing positive behavior skills and mindsets while networking with potential employers and building relationships with mentors and partners is just as important as achieving certifications, degrees, and accolades.
"
Christina
Post-Job
Help Desk Technician
HCI Group
Homeless and a victim of domestic violence and abuse for nearly two decades, the week before Christina started Generation, things looked pretty bleak. She had never been employed full-time and lacked the skills to be on her own.
"The key to my success.
The most important thing that I gained during Generation was renewed self-confidence.
"
News
Generation in the press
---
The program is called CLIMB. It aims to address three major economic barriers: housing, childcare and transportation. The program was started in August by several non-profits including, Generation, LISC, the United Way of Jacksonville.
News4JAX
"It's the most students we've served in any one area across the United States, so we're really proud of that," said Alexandra Rudnick, a program leader for Generation USA. "We feel established in this city in a new way. It feels like a meaningful accomplishment and the start of the next chapter."
Florida Times-Union
See All Press