2019 Generation USA Retreat
Evening Activities
We're not just here to work!

We think Generation USA has done an awesome job of cultivating a strong work culture through our remote platforms. That being said, one of the main benefits of this week is getting the opportunity to hang out face-to-face with your remote coworkers! We want to make the most of this rare time together, so check out what we have in store for you below.
*Before participating in any evening activities, make sure you read the "Retreat Travel Expense Procedures" located on the Hotel and Transportation Logistics page.
MONDAY, 11/11: Earlybird's Dinner
7:00PM at The Great American Grill
For those arriving on Monday, we will meet in the lobby at 6:50 PM
TUESDAY, 11/12: Generation Birthday Party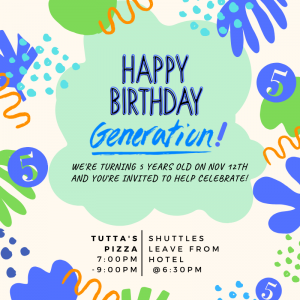 This is our opportunity to get together as one big group and have a fun night of celebration! A space has been reserved, food and transportation have been pre-arranged. We will all meet in the lobby no later than 6:25pm, as shuttles will be leaving promptly at 6:30pm. We will be eating at Tutta's Pizza, which has been featured on Diners, Drive-Ins, and Dives on Food Network. It is located in the West End Historic District and is the only place in Dallas to get Texas-style pizza!
Please wear your retreat t-shirts for a group photo!
WEDNESDAY, 11/13: Retreat Fun Night (optional)
Plan to leave the hotel at 6:30pm. We will coordinate ride shares to and from the event location. Groups going to the event will be assigned ahead of time, with one member in charge of the ride-share request. These details will be shared with you as soon as they are confirmed!
Option #1: TopGolf
8787 Park Lane, Dallas, TX 75231
(214) 341-9600
If you download the TopGolf App here, you can get $5 off your Lyft ride
**Details to be confirmed, check back soon for further instructions!

Option #2: Dave & Busters
9450 N Central Expy, Dallas, TX 75231
(214) 361-5553
Half Price games on Wednesdays!
**Details to be confirmed, check back soon for further instructions!
THURSDAY, 11/14: Free Night
This night is up to you! Feel free to coordinate group dinners at one of the recommended local restaurants, check out some fun Dallas activities, or just enjoy some downtime at the hotel.